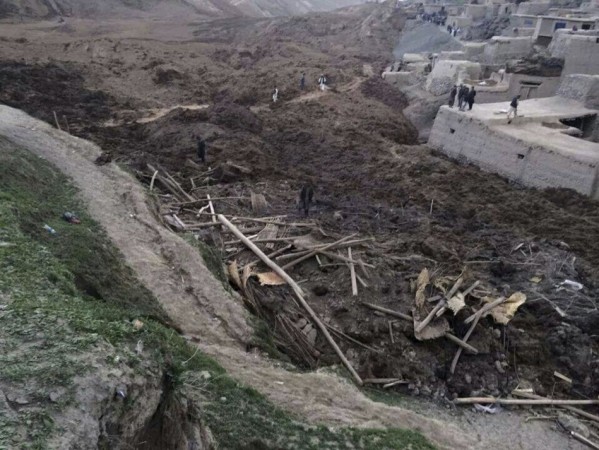 Afghan authorities have confirmed that more than 2,100 people have been killed following a massive landslide that crashed into a remote mountain village Friday in the Argo district in Badakhshan in the coutnry's north east.
Seven people were pulled alive from the mud and debris that flattened and leveled 300 homes, but rescuers don't believe that anyone else could be alive beneath the piles of earth, the Independent reports.
Villagers and a few dozen armies resumed their search when daylight broke on Saturday, but it has become increasingly unlikely that any more survivors would be found inside the huge mud slide of 100 meters thickness.
"More than 2,100 people from 300 families are all dead," Naweed Forotan, a spokesman for the Badakhshan provincial governor told ABC.
The United Nations has said that the focus will now be on the more than 4,000 people displaced by the disastrous slide.
Many victims were villagers that flocked to help their neighbors when a smaller landslide struck, but they were caught in a second wave of mud that hit the village. It was reported that a wedding was taking place in the village.
"Now we can only help the displaced people. Those trapped under the landslide and who have lost lives, it is impossible to do anything for them," Major General Faziluddin Hayar, the Badakhshan provincial police chief, told the Independent.
The Catastrophic landslip took place in the village of Hobo Barik, and it is reported that about a third of the village has been wiped out. Most of the people would have been home as it was a day of worship.
The landslide was triggered by heavy rain, which has swept the region for several days. The province sees regular avalanches and landslides but they are rarely so deadly and catastrophic.
Afghanistan's president Hamid Karzai has ordered Afghan officials to start emergency relief efforts immediately.
A UN representative has told the ABC that the roads to the village were open but passage was not suitable for heavy machinery.
"Due to the size of the landslide, it is impossible to search for bodies without advanced machinery," Colonel Sayed said.
"We hope to get some machinery and aid soon."
President Obama remarked on the tragedy during an appearance in Washington at a joint news conference with German Chancellor Angela Merkel.
"I want to say on behalf of the American people our thoughts are with the people of Afghanistan who have experienced an awful tragedy," Obama said.
"Just as the United States has stood by the people of Afghanistan through a difficult decade, we stand ready to help our Afghan partners as they respond to this disaster," he said adding: "For even as our war there comes to an end this year, our commitment to Afghanistan and its people will endure."
The Badakshan province, which shares borders with China and sits nestled in the Hindu Kush and Pamir Mountain, is one of the most remote parts of the country.
[ED:VS]