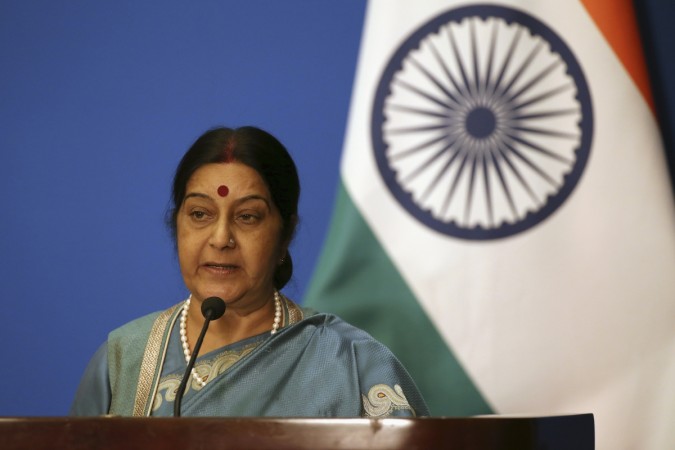 External Affairs Minister Sushma Swaraj, who arrived in Islamabad on a two-day visit for the multilateral "Heart of Asia" conference, is expected to hold talks with Prime Minister Nawaz Sharif and Pakistani counterpart Sartaj Aziz.
Sushma Swaraj's Pakistan trip is the first ministerial visit from India since 2012, when the then EAM SM Krishna visited the country.
"(The) message that I have come with is that the India-Pakistan relations should become much better and should move forward," said the minister, "I will meet PM Nawaz Sharif and my counterpart Sartaj Aziz."
She added that the "5th Ministerial Conference on Heart of Asia - Istanbul Process" is important for India as it is connected to Afghanistan.
This is the third bilateral engagement between the two countries at the top level in less than 10 days.
On 30 November, Prime Ministers Narendra Modi and Nawaz Sharif had met in Paris on the sidelines of global climate change conference, while on Sunday, the two countries had NSA-level talks India's Ajit Doval and his counterpart Naseer Khan Janjua in Bangkok to discuss the Kashmir issue, terrorism and LoC ceasefire violations.
The ministerial visit is being closely watched by those in diplomatic circles as well as the media in both the countries.
Pakistani daily Dawn said that every right-thinking Indian and Pakistani should welcome the bilateral meetings.
"What seemed impossible just weeks ago has turned into a remarkable, almost unprecedented, round of diplomacy at the very highest levels," the leading daily said in its editorial.
"The meetings must, first and foremost, be welcomed by every right-thinking Indian and Pakistani. Not talking to each other should be an unacceptable state of affairs when it comes to the two South Asian neighbours."
Watch the video below:
EAM Sushma Swaraj in Islamabad (Pakistan), meets Pak Foreign Min Sartaj Aziz at dinner for Heart of Asia delegates. https://t.co/LikeOsePAP

— ANI (@ANI_news) December 8, 2015
EAM Sushma Swaraj in Islamabad (Pakistan), speaks on the message she has come with to Pakistan. https://t.co/8CR8IL7RWj

— ANI (@ANI_news) December 8, 2015