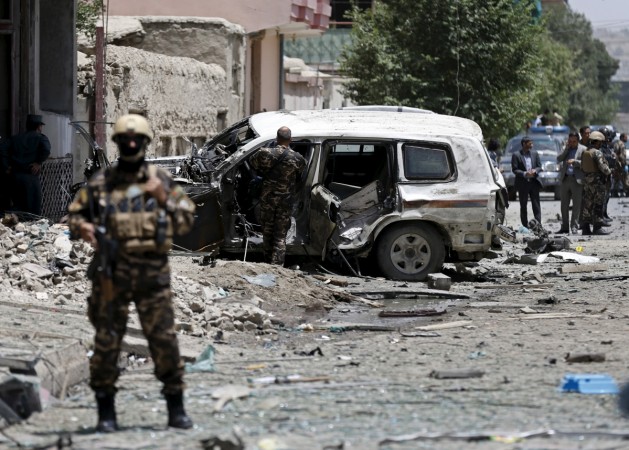 A bomb blast rocked the city of Kabul in Afghanistan on Tuesday, and Taliban suicide bombers also targeted the office of the National Directorate of Security, killing one soldier.
Tuesday's blast occurred in the Shah Shaheed area in Kabul, according to Afghanistan's news agency Tolo News.
A suicide bomber rammed his car into a convoy of foreign troops in the second such attack on foreign forces in Kabul in a week.
A Kabul-based journalist told IBTimes India that two people were injured in the blast, including a foreigner. He added that the suicide bomber had targeted two Land cruiser cars of foreign advisers in Kabul.
Insurgents also targeted the NDS office in Kabul on Tuesday, with a suicide bomber detonating outside the office and killing one soldier.
However, two suicide bombers who entered the compound were taken down by security forces before they could set off their bombs, NDS said in a tweet.
@NDSAfghanistan confirms the complexe attack on an NDS facility, both suicide bombers were killed before they detonate their vests at 14h30

— NDS Afghanistan (@NDSAfghanistan) July 7, 2015
Taliban claimed responsibility for the attacks, according to AFP.
The Taliban had claimed responsibility for the 30 June blast, which was targeted at NATO troops. No troops were injured in that incident.
Pic: An armor car is destroyed as the result of suicide attack. The casualties yet to be confirmed. #Kabul pic.twitter.com/5WK84z4Ix3

— Rateb Noori (@RatebNoori) July 7, 2015
KABUL BLAST: Police confirms the blast targeted foreign troops. No report on casualties yet.

— TOLOnews (@TOLOnews) July 7, 2015