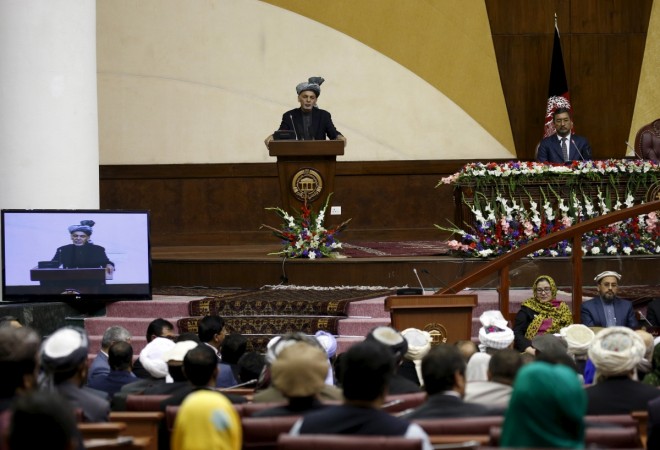 Afghanistan President Ashraf Ghani sang a different tune on Monday during a speech in the Afghan Parliament, saying he was ready to take Pakistan to the United Nations Security Council for its failure to deliver on its promises over the Taliban as part of quadrilateral talks with the U.S., China and Afghanistan. Ghani also indicated that no more diplomatic talks would be held with the Taliban, whom he called "terrorists," reportedly for the first time.
The Afghan president's comments come in the wake of the Taliban's first attack in its "spring offencive" that killed more than 60 people and injured close to 300 in Kabul. The comments also indicated a change in Ghani's diplomacy as peace talks between the government and the insurgents had been a key point in his foreign policy during his election.
"I want to make it clear that we do not expect Pakistan to bring the Taliban to talks," Ghani was quoted as saying by the New York Times on Monday. "If we do not see a change, despite our hopes and efforts for regional cooperation, we will be forced to turn to the UN Security Council and launch serious diplomatic efforts."
Ghani was quoted by the Los Angeles Times as saying that Afghanistan's security forces would now tackle the Taliban and other militant groups in the country. He was also quoted as saying by the NYT that Pakistan had said "in writing" it would "go after" Taliban leaders who refuse to join the peace talks.
The Taliban, who took note of the speech, was quoted by the NYT as tweeting on Monday that "the nation is not blind — it realises who is a slave, and who is a hireling."
Ghani's comments precede the Heart of Asia conference taking place in New Delhi on Tuesday, where high-level officials from 12 countries would discuss measures for a peaceful Afghanistan, according to the Indian Express.
Relations between Pakistan and Afghanistan had soured after a truck bomb in August 2015 killed 15 people in Kabul. The diplomatic ties had improved in December when Pakistan joined the U.S. and China in starting peace talks with the Taliban.