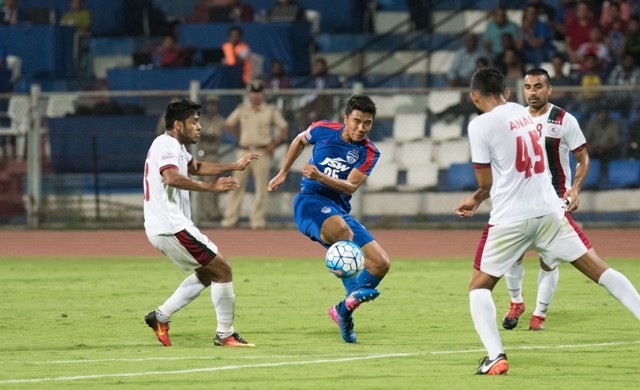 Mohun Bagan and Bengaluru FC -- the only Indian football sides who enjoyed quite an impressive run in the AFC Cup last year, are back at it again. Can the I-League defending champions BFC, who made history by becoming the finalists in the Asian competition last year, lift the title this time around?
Why East Bengal couldn't be a part of AFC Cup 2017
Well, that remains to be seen as the AFC Cup 2017 group campaign for Bagan and BFC get under way from Tuesday, March 14.
This time around, both the Indian football sides are drawn alongside each other in the AFC Cup 2017 group stages and it will be interesting to note whether Mohun Bagan or Bengaluru FC progresses to the next round.
Unfortunately, only one team can progress from the group, making things very tough.
Mohun Bagan and BFC are grouped in the South Asia Zone (Group E) in the competition, alongside Maldives side Maziya and Bangladesh side Dhaka Abahani. Following the round-robin home and away matches, the winners as well as the best runners-up from only the West Asia Zone and the ASEAN Zone will advance to the Zonal semi-finals.
As for the Central Asia Zone, the South Asia Zone, and the East Asia Zone, only the group winners will advance to the Inter-zone play-off semi-finals.
AFC Cup 2017 schedule:
Mohun Bagan
| | | | | | |
| --- | --- | --- | --- | --- | --- |
| Date | Team A | | Team B | Time | Venue |
| March 14 | Bengaluru FC | v | Mohun Bagan | 7 pm IST | Sree Kanteerava Stadium, Bangalore |
| April 4 | Mohun Bagan | v | Dhaka Abahani | 7 pm IST | Rabindra Sarobar Stadium |
| April 19 | Mohun Bagan | v | Maziya | 7 pm IST | Rabindra Sarobar Stadium |
| May 3 | Maziya | v | Mohun Bagan | 4:30 pm IST | Maldives National Stadium |
| May 17 | Mohun Bagan | v | Bengaluru FC | 7 pm IST | Rabindra Sarobar Stadium |
| May 31 | Dhaka Abahani | v | Mohun Bagan | 7 pm IST | Bangabandhu Stadium |
Bengaluru FC
| | | | | | |
| --- | --- | --- | --- | --- | --- |
| Date | Team A | | Team B | Time | Venue |
| March 14 | Bengaluru FC | v | Mohun Bagan | 7 pm IST | Sree Kanteerava Stadium |
| April 4 | Maziya | v | Bengaluru FC | 4:30 pm IST | Maldives National Stadium |
| April 18 | Bengaluru FC | v | Dhaka Abahani | 7 pm IST | Sree Kanteerava Stadium |
| May 3 | Dhaka Abahani | v | Bengaluru FC | 7 pm IST | Bangabandhu Stadium |
| May 17 | Mohun Bagan | v | Bengaluru FC | 7 pm IST | Rabindra Sarobar Stadium |
| May 31 | Bengaluru FC | v | Maziya | 7 pm IST | Sree Kanteerava Stadium |