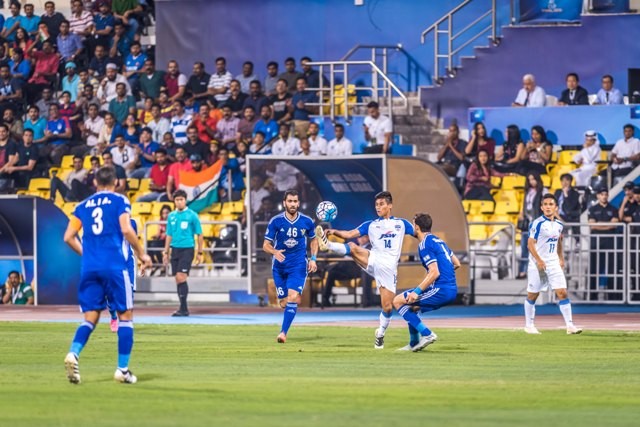 Bengaluru FC might have failed to cross the final hurdle to win the AFC Cup 2016 title, but the club, for sure, won hearts of India football fans with their splendid display in the competition. They lost the title-decider 0-1, after Hammadi Ahmed scored the all-important goal in the second half to help Iraq Air Force Club win the title on Saturday at Qatar Sports Club Stadium in Doha.
Though the defeat might have been heart-breaking for the number of supporters, who were supporting the team in the venue and India as well, Bengaluru FC showed that the club, and Indian football, is in the right path. The support from their loyal supporters in Bengaluru has been phenomenal whenever they have played in the city, which has pushed the players to strive for excellence.
Bengaluru FC had already created history prior to the finals, becoming the first Indian club to reach the finals of AFC Cup. The club should be pleased with what they have achieved, especially considering the fact that the club was formed three years ago only. They have been splendid ever since, winning the I-League title twice, and finishing runners up once.
Add to those achievements, this runners-up finish in the AFC Cup is another silver lining after having defeated some top teams en route to the finals. They give it their all in the finals of the AFC Cup, but they could not win the title.
During the finals, it was the Iraqi club, who looked comfortable, on the ball, and were applying huge pressure on the Bengaluru FC defenders. They dominated possession, and threatened offensively, but with defenders like John Johnson, it was never going to be easy for the Air Force Club.
With the first half ending goalless, both the teams went into their respective dressing rooms, and the coaches might have chalked plans to break the deadlock. The second half started on a bright not for the Air Force Club, as they looked en even more dangerous team in the second 45 minutes. The Indian club also received a few chances, but they could not score.
With the Air Force club putting huge pressure on Bengaluru FC, the deadlock was finally broken as Hammadi found the back of the net in the 70th minute. It was Hammadi's 16th goal of the competition, and also finished as the top-scorer.
Bengaluru were in desperate need of an equaliser, but it did not happen, and Iraq's Air Force Club won their maiden AFC Cup title.