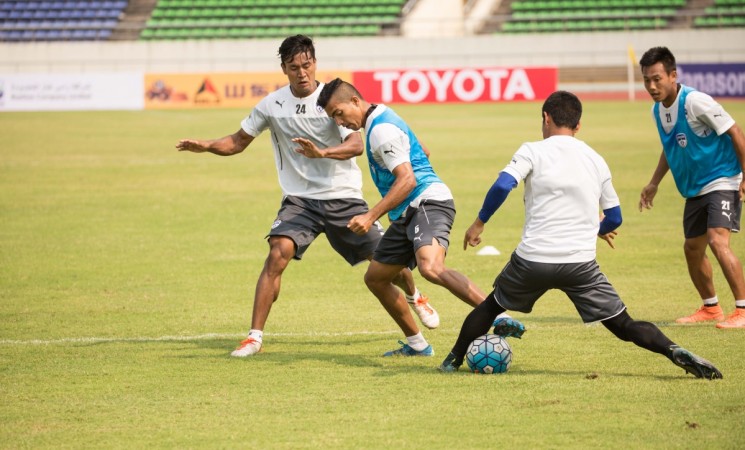 Mohd Safiq scored the only goal of the match for Johor in their AFC Cup 2016 Group H clash against Bengaluru FC, Wednesday, as they won the game 1-0 at the Sree Kanteerava Stadium. It's two defeats on the trot in the competition now for the Indian side.
While the match was all about the midfield battle, the first 45 minutes of play produced impressive performances from Bengaluru FC goalkeeper Mawia Ralte and Johor's Argentinan forward Pereyra Diaz.
If it had not been for the resilience of Mawia in the BFC goal, Diaz could have easily snatched the match for his team in the first half. Diaz, along with Juan Lucero, kept troubling the BFC defence as the game progressed. The likes of Bengaluru FC defenders John Johnson and Vishal Kumar looked a bit shaky, but they managed to hold the defending AFC Cup champions from getting an early goal.
Diaz took the first shot on goal for Johor in the 16th minute and Ralte was there to save the day for the home team.
For Bengaluru FC, who surprisingly had Sunil Chhetri sit on the bench for the entire match, Udanta Singh was attracting most of the cheers from the West Block stand of the Kanteerava Stadium. The former Tata Football Academy forward had a go at goal within 30 seconds of the start of the match, with Johor custodian Mohd Izham tipping the ball away,
The 19-year-old Manipuri forward was the brightest in the BFC attacking third, as he combined well with skipper of the evening Thoi Singh, Siam Hanghal and Len, to beat the Johor defenders on more than one occasion. However, despite their best efforts the match remained goalless at halftime.
Johor captain Mohd Safiq, who scored a hat-trick in the team's opening match of the AFC Cup 2016, scored the crucial goal for the away side in the 55th minute, as he blasted the ball into the top corner of the net with a freekick taken from just outside the box.
The one-goal deficit woke up Bengaluru FC and the home side upped their performance, with John Johnson missing a golden chance when he failed to find the back of the net with a header off a freekick from Udanta.
At the other end, Diaz continued his brilliant display, as he took potshots on goal on a couple of occasions. Udanta Singh did the same at the other end, with the Manipuri forward playing tirelessly and creating plenty of chances, without finding the vital equaliser.