Airbus Helicopters said it is in consultations with Indian conglomerates – Tatas, Mahindra and Mahindra and Reliance Industries, to jointly manufacture military helicopters.
Prime Minister Narendra Modi's "Make in India" initiative envisages foreign arms makers to form partnership with Indian companies to enable local manufacturing of arms, to reduce imports.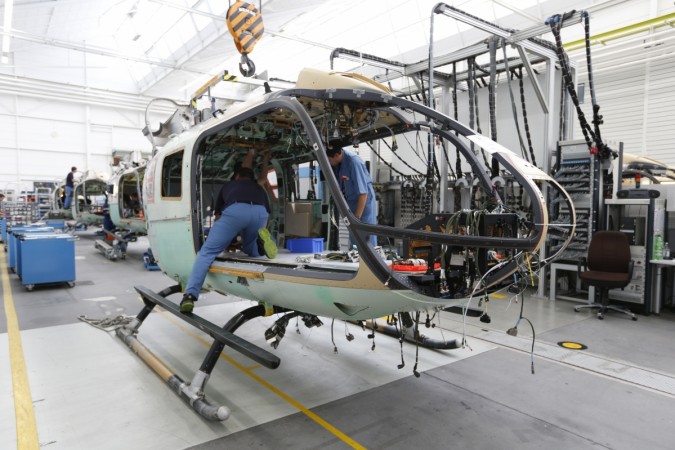 Airbus Helicopters
The subsidiary of the Airbus Group is offering to build its light utility AS550 Fennec and the medium lift EC725 in India, to replace India's ageing Cheetah and Chetak helicopters.
"We are in the selection process, talking to different industries to form a JV (joint venture)," Rainer Farid, a senior Airbus Helicopters executive told Reuters on Friday at Aero India 2015 in Bengaluru.
In 2014, India decided to scrap the earlier proposal to acquire 197 light utility helicopters in order to allow local companies to join international majors and build the helicopters within India through joint ventures.
Russian helicopter manufacturers and US-based Sikorsky are also expected to bid for the order.
Currently, state-run Hindustan Aeronautics, based in Bangalore is the only Indian producer of helicopters, meaning global defence firms will have to find partners with Indian conglomerates who have ventured into the arena, with the opening of the sector a little more than a decade ago.
However, Farid, who was speaking on the sidelines of the ongoing Aero India 2015, noted that the task of establishing necessary vendor units in India was going to be tough, given that such vendors don't exist as of now.
The Narendra Modi government has increased foreign direct investment in the defence sector up to 49%, in the belief that more international firms would be willing to tie up and start producing locally.
On Wednesday, India's Bharat Forge announced its joint venture with Israel's Rafael Advanced Defence Systems to produce the Spike anti-tank guided missile.