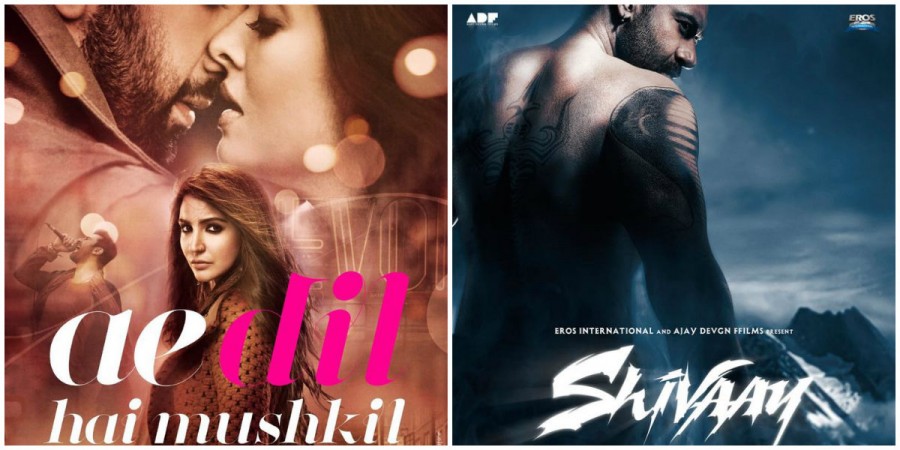 Ae Dil Hai Mushkil (ADHM) is having a better box office collection than Shivaay not only at the domestic market but also overseas. The Karan Johar directorial has earned more than Ajay Devgn's film at the overseas market both on day 1 and 2.
ADHM has been having an excellent run at the box office, keeping Shivaay behind. The multi-starrer romance drama has been making a strong impact both in Indian box office as well as in the global market.
Ae Dil Hai Mushkil has collected more than Shivaay in almost all the overseas circuits in 2 days. However, ADHM has much more screen counts than Ajay's action thriller and that definitely should be taken into consideration. Also, figures from some other major regions are yet to be out.
ADHM has made a strong mark in the major regions like UK and USA. The film has outnumbered Shivaay's overseas collection by huge margin in the first 2 days. Although trade experts were rooting for Ajay's action flick, Ranbir Kapoor-starrer movie is a clear winner at the box office, at least for the first 2 days.
ADHM has earned Rs 10 crore (approx) from the USA market itself in the 2 days while Shivaay could rake in just Rs 1.52 crore (approx). Similar is the scenario in UK and Ireland. Ae Dil Hai Mushkil collected over Rs 2 crore there but Shivaay earned just around Rs 15 lakh in the two days. Again, ADHM has more than double screen counts than Shivaay in the mentioned regions.
Check the area-wise box office collection of Ae Dil Hai Mushkil and Shivaay in the first 2 days at the overseas market:
ADHM collection:
| | | | | |
| --- | --- | --- | --- | --- |
| Area | Screens (Day 1/Day 2) | Day 1 (USD) | Day 2 (USD) | Total |
| UK-Ireland | 82/127 | 154,542 | 269,298 | 423840 |
| Australia | 33/34 | 118,756 | 116,024 | 234780 |
| New Zealand | 21/20 | 33,035 | 34,406 | 67441 |
| Canada | 14 | 53,921 | NA | |
| Malaysia | 17 | NA | 5,463 | |
Shivaay collection:
Area
Screens (Day 1/Day 2)
Day 1 (USD)
Day 2 (USD)
Total
UK-Ireland
32/52
6,677
15,075
21752
Australia
24/28
20,147
22,237
42384
New Zealand
11/8
5,928
6,579
12507
Canada
9
10,397
NA
Malaysia
2
NA
988