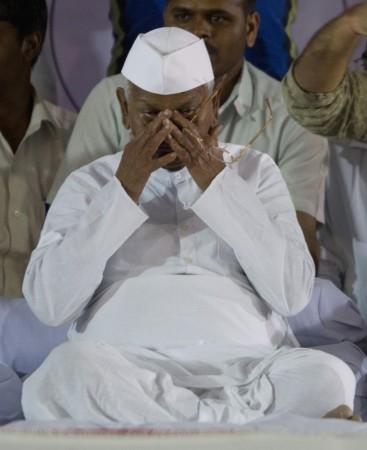 In an ironic turn of events on Thursday a complaint was filed against Anna Hazare for allegedly "cheating people". Hailed as a Gandhian, Hazare has been spearheading a mass agitation against corruption in the country for the past year.
Inderjeet Singh Bhatia, an Indore-based advocate, approached a local court alleging that the 75-year-old crusader and his team have committed a fraud upon the nation on the pre-text of launching agitation against graft. The advocate filed the case in the court of Judicial Magistrate First Class (JMFC) Suman Shrivastava.
According to reports, Bhatia accused now disbanded Team Anna of misleading the nation, with the crusaders using the agitation as a launch pad to meet their political agenda. He also contended that the anti-graft activists called off their fast abruptly, undermining millions of people who lend their support for the cause.
Furthermore, Bhatia alleged that the dissolved members of Team Anna have collected lump sum amounts of cash, the details which the members haven't disclosed.
Reports said that Ramdev's name also figured in the complaint filed by Bhatia, who urged the court to take action against the Yoga guru for deviating Anna's movement from the main agenda.
The complaint against the crusaders will come up for the hearing on Aug 14, Bhatia informed the press.
Last month, Anna and his aides launched an indefinite fast demanding the introduction of the much-debated Lokapl bill. The fasting activists eventually called off their fast-unto-death protest, saying that they would fight the electoral in a bid to clean up the system.
The crusaders' decision to choose a political route drew mixed reactions from different quarters of life. Some welcomed it, while some alleged that the long-standing agenda of civil-activists was finally revealed.