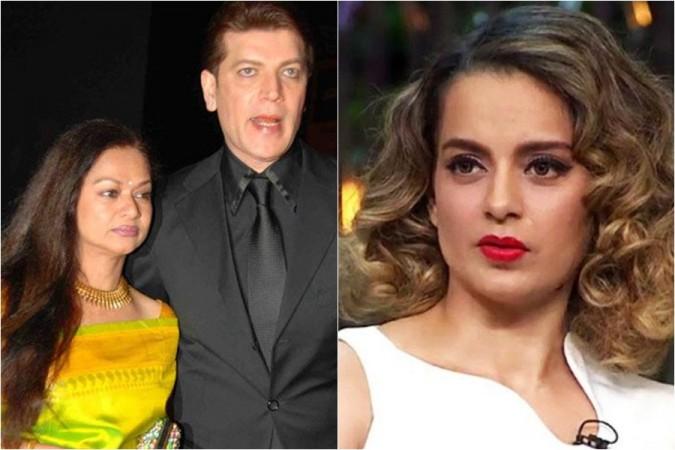 It looks like Kangana Ranaut's controversies are going to cost her more than what she has earned with her talent in Bollywood. She dug up her past, made shocking confessions about her love affairs. While Hrithik Roshan, Adhayam Suman kept mum, Aditya Pancholi's wife and noted actress Zarian Wahab, however, has decided to slap Kangana with criminal and civil defamation notices.
"She really crossed all limits. Kya zaroorat tthi yeh sab baatein karne ki film promotion ke liye? (what was the need to talk about her past affairs to promote her film?)," an agitated Wahab was quoted as saying by Bollywood Hungama.
"She would have let the past bury itself in the mud instead of flinging mud on people who once mattered to her. She should've let her work speak for her instead of digging up past affairs thereby compromising not just herself but also several other individuals and families," Wahab added.
"The Roshans are such dignified cultured people. They don't deserve to be dragged through the mud in this way. I've known Hrithik's father Rakesh Roshan for years. We've worked together in films. He is a gentleman and a kind co-star. And so is Hrithik. Whenever he sees me entering the room he stands up out of respect," Wahab continued, extending her support to the Roshan family.
Kangana had claimed that she is younger than Aditya Pancholi's daughter Sana. In response, Pancholi shared the Aadhar cards to prove his and his daughter's age. Wahab found it inexcusable that the Simran actress dragged her daughter into the mess.
"She really crossed the line when she brought my daughter Sana into the picture," Wahab said. "Her lie that she is younger than my daughter Sana has been exposed and both Aditya and Sana. I felt she needs to apologise for dragging my daughter's name into her publicity campaign..."
Wife of Pancholi also slammed Kangana for sheer thanklessness. "You know I can't understand this attitude of ingratitude. I am the kind of person who would be indebted to someone for a glass of water. She seems to have forgotten how much my husband and I did for her when she was new in Mumbai. Nirmal (Aditya Pancholi's real name) really went out of his way to introduce her to producers. I don't think he did even a fraction of this for own daughter's career," Wahab elaborated.
Wahab went on to say that she helped Kangana when the young actress was undergoing her tough times. She helped her even after knowing that the aspiring actress was having a secret affair with Pancholi.
"Let me make it very clear I only helped Kangana until I got to know about the affair. I am kind but I am not stupid. When she first came to Mumbai I even allowed her to stay in a flat owned by us. After I got to know of how she was repaying my hospitality, I warned Nirmal that this girl will quickly move on once she gets work in the film industry."
And now Wahab seriously demands public apology from Kangana for all the hurt and slander she has caused with her statements.
"Only a public apology for all the hurt and slander she has caused. Did you hear what she had to say to Barkha Dutt? Such lies! And for what purpose? She is such a capable artiste and has become so successful. What is the point in hurting those people who were important to her at some point in life? Just because they don't matter to her any longer?" Wahab said.