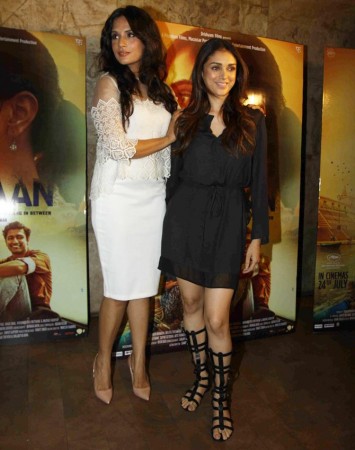 Aditi Rao Hydari and Richa Chadha sure know how to give it back like a boss! The actresses who will be starring in Sudhir Mishra's DaasDev, reportedly were not communicating.
According to Mid-Day on January 30, a source told the leading daily that the actors were cordial earlier but they don't talk anymore. They were discussing the promotional strategy about the film's poster but they had different opinions which led to a fight. The actresses don't cross each other's paths now.
So, a rift on the selection of the poster led to some heated arguments between the two leading ladies. But Aditi took to Twitter and said: "Eh pl ya guys.... this is so boring...it's been done to death... Don't make us into vacuous insecure creatures! Pl! [sic]"
To which, Richa replied: "Ya Aditi please talk to me na. Please? Guys! Tell your 'sources' ki khabar galat hai. Thanks.[sic]"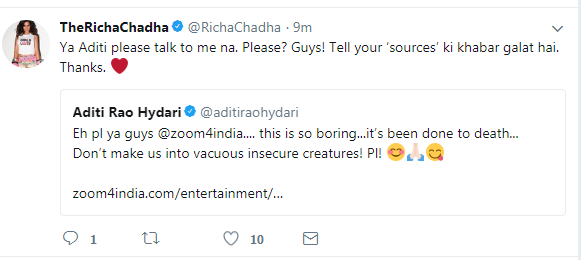 Now, that's some swag! You heard it from the ladies themselves.
Talking about Sudhir Mishra's "DaasDev" — is a reverse take on the original "Devdas." The classic love saga and a romantic thriller stars Richa Chadha as Paro, Aditi Rao Hydari as Chandni and Rahul Bhat as Dev, the film is a modern flip of the Sarat Chandra Chattopadhyay's classic novel 'Devdas', and is set in the modern time of hinterland India against the backdrop of politics.
The film is presented by Storm pictures and produced by Saptarishi Cinevision production. Mishra in a media interaction said, "I think it's my right to use any work, everything is my heritage, so I can play with it as long as I admit it. I admit that I took 'Devdas', I took the three characters Dev, Paro, and Chandramukhi. As I was working, (William) Shakespeare intruded and I allowed him to, what could I do? Ultimately it became a film about power as it gets into the way of love. It became a reverse journey because if 'Devdas' is a journey from a noble person to a 'das', this is a journey from 'das', a person who is a slave to his addictions and the dynastic ambitions of his family, to Dev.
"It is about how he liberates himself, how he breaks free and ultimately achieves a kind of nobility which is essentially what a 'dev' is. Hence, 'Daasdev'. Paro is a modern, spunky, interesting woman who fights with the weapons she has and in the end, confronts Dev. And Chandni is as close to Chandramukhi as she can get in this day and age"