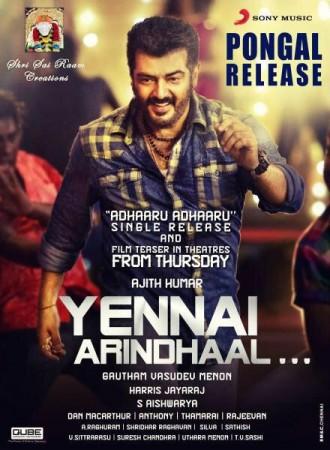 The much-awaited single song "Adhaaru Adhaaru" from Ajith starrer "Yennai Arindhal" has opened to high positive reviews from the audience. The song, which is in the typical "Kuthu" beat, is full of energy and is a treat for Ajith fans.
"Adhaaru Adhaaru" song has been sung by Vijay Prakash and Gana Bala and set to tune by Harris Jayaraj. The lyrics have been penned by Vignesh Shivan.
The song has raised hopes of Ajith fans over the film; they are now expecting the visuals of the film to be beyond their expectations.
Here are the reviews of "Adhaaru Adhaaru" by the audience:
"Nice Song.. But we all know Harris is the king of melodies with fantastic percussions and best instruments... Waiting for his slow melody tracks too.. Real treat this Pongal... Ajith..Gautham..Harris... Wat a combo" – Shankar Rajan
"Magic of GVM and Harris is back. Beyond Aijith , the song on its own is a new leveler samae!" – Arun Kumar
"Kallakal song. Thanks to harris to give such a great a song to OUR THALA..... I am much happy with Happy TEARS" – Sridharan Prabhakaran
"I guess the song comes when ajith and trisha get married.. With local people.. I am curious to know who will act for gana bala's voice... this song actually increased my expectation for the movie... best of luck to the team" – sixf
"Very nice kutthu song from Harris and different instrument using good change from harris" - Ananth Simbu
'There is Not a single Flaw in Music.. Everything is fine. Musically its a good Composition. Problem is with listeners.. they dont know what the script is, they dont know what the movie is about.. but except the song to be of their taste.. common, be blank and hear this song.. its Good but yeah not Extraordinary. Might be this is not the type of movie which is made to feed Audience expectation." – Prabhu Bhaskar
"Goutham's movies usually dont have these kind of songs....sounds cinematic... lets see how it enhances this story...Average song" - Siva M
"Superb song by Harris Sir!!! You rocked!!! Doesn't matter wether this song is similar to danga maari or otha maari!!! Dont Fucking care about it!!! Song is awesome!!! Keep rocking harris sir!!" – Praveen Kumar
"Now the trend in all social apps as changed as Adhaaru adhaaru :) thala rocks;) and Hater's will hate ajith anna but thala veriyans will make it has a new record and break the old records in Indian film history" – Lakshmi Balaji
"The perfect pongal song... The visual would be awesome I am sure !!! Ajith always liked to do things different.. So appreciate that.' - Hakeem
"It's a different rendition. Harris Jeyaraj Sir has rendered local beats along with a melody in between. Why to follow the same trend in fast numbers? For me "Adhaaru Adhaaru" is something different, which made me listen to this Song 3 to 4 times. Don't get dejected fans, "Thala" will Steal the Show on Screen. That's enough. Proceed with your work irrespective of other comments." – Dev Anand
"I am diehard fan of Ajith Sir. I am expecting this kind of energetic song from Harris-Ajith Pair.Thank God." – Ram Nisha
"Its rocking...a different peppy hit from GVM and Harris...sure will be celebration in theatre with the visuals..thala rocksssssssss." - Rahul