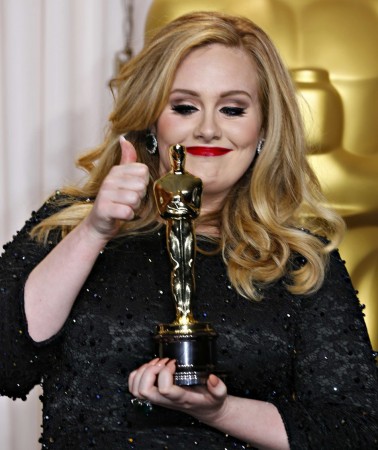 British singer Adele who recently won an Oscar for her "Skyfall" may again be collaborating with the Bond producers for a second outing.
It has been reported that producers of the "James Bond" franchise are keen to sign the talented songstress for the next Bond installment.
The producers want Adele to be the new Bond dame and take the place of Welsh singer Shirley Bassey, who has sung for several Bond films like "Goldfinger", "Diamonds Are Forever" and "Moonraker", reported The Sun.
"Producers are thrilled by how well the song has been received and hope Adele's presence in the next film will replicate that success," a source told the British tabloid.
The Grammy-winning singer is already on cloud nine after winning the Brit Awards and Golden Globes following the Oscars.
Adele did not just sing the movie's theme song for "Skyfal" but also co-wrote it with Paul Epworth. Both Epworth and Adele won the Oscars jointly for the title track.
Post the Oscars, the singer's album "21" has seen another sales boost.
The album is also reportedly the best-selling album of the 21st Century and the fourth biggest-selling in British history.
Adele, who had given birth to a boy last year, has not announced any music assignments. But she admitted that she was just as eager as her fans to start working on a new collection of songs.
The Daily Mail quoted the singer as saying that the songs will "come when they're ready, and when I've got something to sing about."