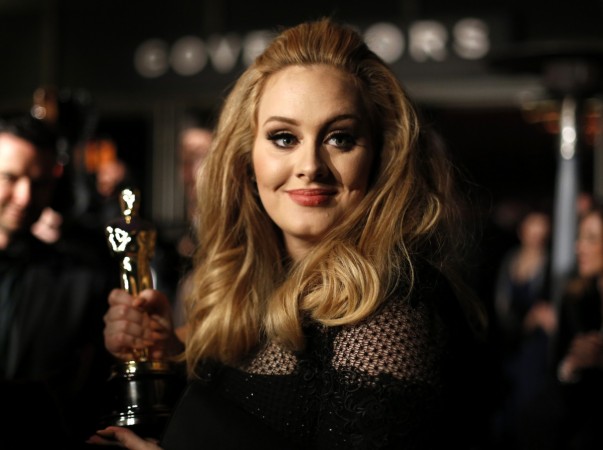 Sir Bob Geldof released the new version of "Do They Know It's Christmas", seeking to raise funds for Ebola research.
While singers like Ellie Goulding, Emeli Sandé and Jessie Ware gladly took part in the endeavour, famous songstress Adele was missing from the Band Aid 30 recording at Sarm Studios, Notting Hill, on Saturday.
Band Aid, founded by Geldof and midge Ure in 1984, was a charity group that included many British and Irish musicians and recording artists.
Geldof alleged that the Oscar-winner "ignored" his calls. "Adele is doing nothing. She's not answering the phone. She's not writing. She's not recording. She doesn't want to be bothered by anyone. She won't even pick up the phone to her manager. She's bringing up a family, you know."
She was supposed to do a single, but continued to ignore calls from Geldof who wanted to put forth his plea for the charity. Geldof added: "Some people just don't want to do it. Of course they agree with it, but it's not their way of doing something." He further said that some people do not believe that their coming along would make a difference. They think, "What can we do that will possibly make it any better? And frankly, if we had any more people in this room we wouldn't get it done. It's f***ing rammed. You can't move, you know," Express reports.
One of Adele's representatives told The Sun that Geldof and the organizers directly spoke to the singer's management, but not at any point did they confirm her attendance. The representative further said that Adele is supporting Oxfam's Ebola Appeal with a donation, Daily Mail reports.
Other stars attending the event were 1D's Harry Styles, Zayn Malik, Niall Horan, Louis Tomlinson and Liam Payne, Coldplay frontman Chris Martin, and Sam Smith. Ed Sheeran, Sinead O'Connor, Nick Grimshaw and Pixie Geldof also graced the event with their presence.
Meanwhile, former Blur and Gorillaz frontman Damon Albarn questioned whether Band Aid was the right response to Ebola. "Our idea of what's wrong and right are not necessarily shared by other cultures. There are problems with our idea of charity, especially these things that suddenly balloon out of nothing and then create a media frenzy where some of that essential communication is lost. It starts to feel like it's a process where if you give money you solve the problem, and really sometimes giving money creates another problem," Albarn said
Band Aid, founded by Geldof and midge Ure in 1984, is a charity group that includes many British and Irish musicians and recording artists.