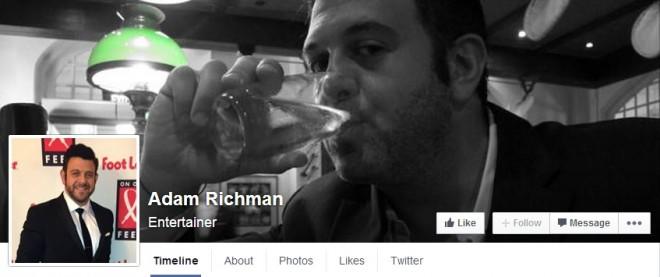 Adam Richman's latest show "Man Finds Food," which was scheduled to air on Wednesday, has been pulled from the Travel Channel after the television personality engaged in a war of words with the online community over a photo he posted that flaunted his weight loss.
Richman lost some 70 pounds since "Man v. Food" went off the air in 2012, and to show off his new physique he posted a photo on his personal Instagram account, which is locked, with the hashtag #thinspiration.
A number of users felt the hashtag was inappropriate as "thinspiration" is a term commonly used by people with eating disorders. When Amber Sarah, an "adipose activist" pointed it out to Richman, he went on a rant saying things like "do I look like I give a f***?" and, "grab a razor and draw a bath. I doubt anyone will miss you."
He even went on to tell a user to "eat a bag of s**t" and added that he will not be apologising for the comment.
"Oh eat a bag of shit, dummy. No apology is coming. If it inspires someone to attain a healthier, thinner body - then that's what it was meant to do. Only f***up it seems was your Dad's choice to go without a condom," Richman reportedly wrote.
However, Richman did issue an apology later on stating that he did not mean to hurt anyone.
"I've long struggled with my body image and have worked hard to achieve a healthy weight. I'm incredibly sorry to everyone I've hurt," he said in the statement, reports noted.
Richman's insensitive rant and its after-effects have many comparing him to Paula Deen, whose career nose-dived after it was revealed that she used racial slurs in the past. She lost out on a number of endorsements, resulting in the loss of as much as $12.5 million in earnings over N-word controversy, the New York Daily News reported at the time.
Sears Holdings, J.C. Penney and Walgreens were among the many brands that distanced themselves from Deen.
Retailers "don't want anything that can possibly tarnish their brand because they've worked so hard at it," Sam Craig, a marketing professor at NYU, told the Daily News. "There are a number of taboo topics, and if you cross the line on those, you become a liability rather than an asset."
This theory has many wondering if Richman's Walmart commercial will be pulled too.
Is Adam Richman still going to promote wal mart brand beef tho

— big | rob (@_rTobey) July 2, 2014
I wonder if Walmart will pull Adam Richman's commercials. I doubt it. — Ben Franklin (@BFSEsq) July 1, 2014
A personal #brand gone horribly wrong - Adam Richman's new show pulled due to crude Instagram #rant http://t.co/IDmQDoFLwy

— Miller Finch Media (@MillerFinchSM) July 1, 2014