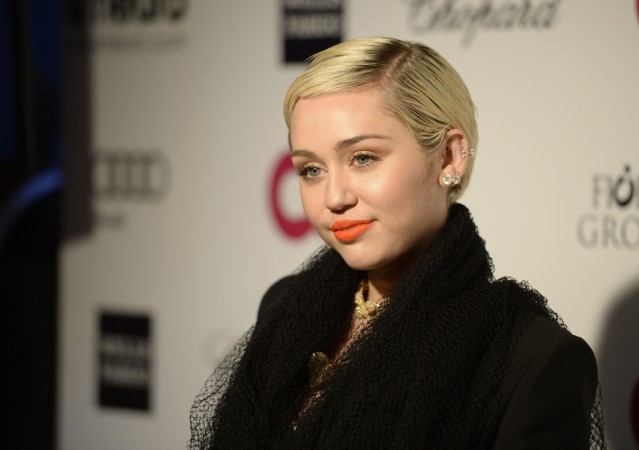 There seems to be a feud brewing between Adam Levine and Liam Hemsworth's fiancee Miley Cyrus. The two have been filming together for "The Voice US" only for a couple of weeks and Levine is apparently finding it difficult to put up with Cyrus, who, he feels, is loud-mouthed and annoying, reported Radar Online.
"Adam and Miley were non-stop bickering during their last taping together," an insider told the media outlet. "He nitpicks almost every single thing she says. Adam seems to find Miley to be extremely loud-mouthed and absolutely annoying!"
However, Blake Shelton gets along with Cyrus, another source revealed to Us Magazine, adding that Cyrus and Levine aren't getting along because both of them have similar personalities. "They both have short attention spans. They find each other annoying. Adam would get agitated when Miley would interrupt him, and she enjoyed getting under his skin."
It is yet unknown if there's any truth to these claims, but, according to Radar Online, Levine and Cyrus aren't the only two people fighting. Reportedly, Christina Aguilera and Blake Shelton, too, cannot stand each other. "Blake hates the fact that Gwen is no longer with him in the judges' chairs this season," an on-set source previously told Radar. "Everyone knows this and he is taking it out on Christina, and they are not getting a long at all."
While Cyrus might be rubbing Levine the wrong way, her romance with fiancé Hemsworth, seems to be going great. According to a Hollywood source, Hemsworth has even hired extra security to keep their privacy intact.
Cyrus and Hemsworth were recently spotted at the premiere of "The Huntsman" and according to an eyewitness, they seem to be totally in love. "[Miley & Liam] were whispering all through the movie. Liam was rubbing Miley's leg and they were holding hands the whole time. It's no question these two are still head over heels for each other," a source told HollywoodLife.