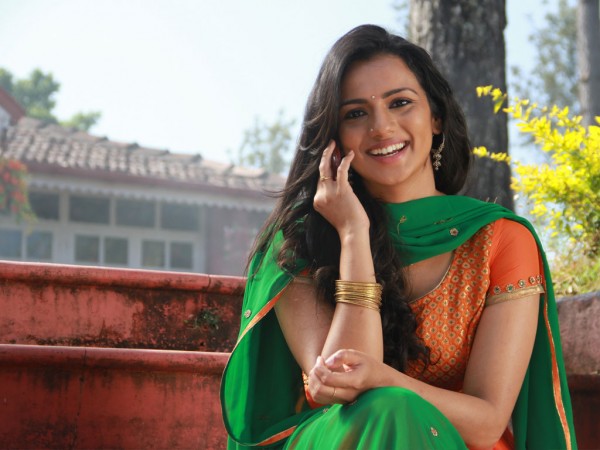 The casting couch in glitz and glamour world has always been vigorously debated. Yet, sadly, the situation remains unchanged over the years.
The latest revelation came from young actress Sruthi Hariharan, once again proving that casting couch is still there in the tinsel world. She revealed that some expect sexual favours from actresses in return for casting them in their films.
Speaking at the India Today South Conclave on sexism in Cinema – Time to End Patriarchy, Sruthi Hariharan, who was one of the panellists, opened up on a shocking incident when a leading producer in Tamil film industry asked her for a sexual favour.
"This was 4 years after my first experience. One of the leading producers in Tamil Cinema bought the rights to my Kannada film and offered me the same role in the Tamil remake. He said, and I'm quoting him verbatim, "we are five producers and we will exchange you however we want." I retorted by saying that I carry a slipper with me in my hand," The News Minute quoted her as saying.
She also stated that she stopped getting good offers following negative publicity against her. Following her statement, there was a misconception that she had blamed the entire film industry and projected the industry in a bad light.
As a result, she has come out with a detailed press release now. Read the full text of the statement here:
The following note is with regard to what transpired at the #Indiatodaysouthconclave 2018 Topic of discussion was: Sexism in Indian Cinema- time to end patriarchy.

I stand by what I said because it is true to my experience. However, it definitely does not mean that the casting couch is an unavoidable prerequisite. Furthermore, I am not even trying to scare anyone by throwing light on how bad an industry the film industry is - it certainly is not. Infact, my intent of coming out with my truth is the exact opposite. The film industry is a wonderful place to be in and personally, I would have it no other way. It creatively satisfies me, and at the same time makes me feel very blessed with the love I receive from the audience for my work. I must add that my family is very proud of all that I did and continue to do as an actor.

Coming to the point, I know many women like me who have been victims of the casting couch. I also know women who have stood up against it and said NO. I believe that's what is important . To take a stand and say NO... Even if it means you are going to lose that opportunity - it is okay as long as you don't lose your integrity.

The casting couch may get us our first opportunity, but will never help us survive . To survive, it's only one's talent and ability to learn and improve as a professional that's going to help. To persevere yet never 'compromise' . I despise that last word there and I hope no girl hears it ever again, in the future.

Times are changing . There are amazing men in the film industry who I have a lot of respect and regard for - many of whom I can't wait to work with. So let's not blame just those few men who ask for sexual favours. They ask because there have been women who have complied. You sure do need two hands to clap .

So let's remember it is 2018 now... There are a lot of new female actors in the film fraternity who are very successful without even having to face the casting couch and I am very proud of each of them. It is important to look at this as a bridge we need to destroy . The casting couch needs to die. And I believe it is only possible by women in cinema coming together to collectively say NO... No to not just the casting couch but everything which is sexist and deregatory to any woman.

So that any girl who comes in tomorrow with dreams in her eyes does not have her family saying for the umpteenth time "are you crazy? You want to be an actress? Do you know what a dirty place it is? You come from a respectable family...go study...do something respectable!!!

Eventually, it is deeply ingrained mindset, and perception of women we ar fighting against. And this can't be one person's battle...it's high time not just women, but men too hollered #TimesUP it is high time patriacrhy ended. Amen.
Sruthi Hariharan has been quite vocal on the issue of casting couch — not just in the Kannada film industry but other industries as well — for some time now.
She told the News Minute last year: "To be frank, the Telugu industry scares me. The way that actresses are treated in the Telugu film industry including the 'casting couch' and prerequisites (from what I've heard), is something I'll never stoop down to."
She added: "With all due respect to all the female actors in the film industry, I can't wrap my head around this. The 'casting couch' doesn't exist as much in the Kannada film industry (as compared to Tamil too) and I can say that confidently."