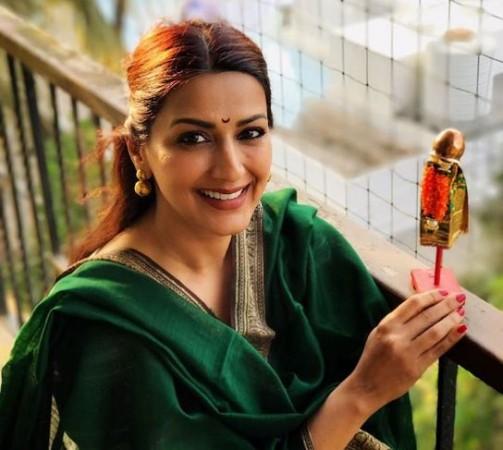 In a shocking revelation, actress Sonali Bendre stated that she has been diagnosed with high-grade cancer.
Sonali took to Twitter and informed fans about her illness. She is currently in New York, undergoing treatment for cancer..
Below is the statement she issued on social media:
"Sometimes, when you least expect it, life throws you a curveball. I have recently been diagnosed with a high grade cancer that has metastised, which we frankly did not see coming. A niggling pain led to some tests, which led to this unexpected diagnosis. My family and close friends have rallied around me, providing the best support system that anyone can ask for. I am very blessed and thankful for each of them.
"There is no better way to tackle this, than to take swift and immediate action. And so, as advised by my doctors, I am currently undergoing a course of treatment in New York. We remain optimistic and I am determined to fight every step of the way. What has helped has been the immense outpouring of love and support I've received over the past few days, for which I am very grateful. I'm taking this battle head on, knowing I have the strength of my family and friends behind me".
This piece of annoucement came as a shocker to her fans, who have now started praying for the actress' speedy recovery.
What is High-Grade Cancer?
"A term used to describe cells and tissue that look abnormal under a microscope. High-grade cancer cells tend to grow and spread more quickly than low-grade cancer cells. Cancer grade may be used to help plan treatment and determine prognosis. High-grade cancers usually have a worse prognosis than low-grade cancers and may need treatment right away or treatment that is more aggressive (intensive)," according to NCI dictionary of cancer terms.
Meanwhile, Irrfan Khan too has been undergoing treatment, after he was diagnosed with neuroendocrine tumour. The actor also had informed his fans about his illness with a statement on social media.