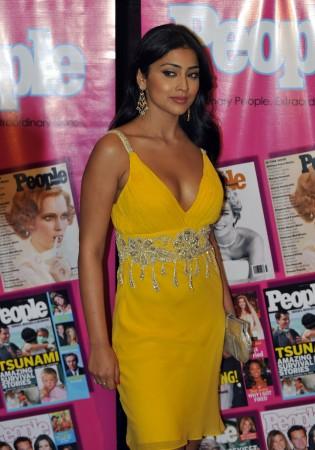 Actress Shriya Saran has alleged that a group of Telangana supporters forced her to shout "Jai Telangana" and damaged her car. The group attacked Shriya while she was shooting for an untitled Telugu film in Hyderabad.
An angry Shriya tweeted: "How can they break my car, throw stones, stop shoot and threaten me to say Jai Telangala on TV. That too in broad day light, [and] police staring at all of this! What about freedom? Safety?"
According CNN IBN Live, the-29-year-old actress was preparing for her shoot when the Telangana supporters gathered at the spot and demanded her to say "Jai Telangana."
She told the news channel over phone that she had said the slogan once. However, the group demanded her to shout it again in front of TV cameras as her voice was not so louder. However, she refused to do so and the crowd got unruly.
When the actress tried to escape in her car, the crowd surrounded it and threw stones which broke the car's glasses.
"Thank god the stone didn't hit me. Both the windows are broken. Seriously! I'm disgusted. I'm born in India and I deserve my freedom and safety is my right!" Shriya added.
After the incident, a shocked Shriya could not sleep. "Didn't get much sleep last nite..was a tough day overall. trying to forget abt the whole incident.. hopefully today goes well. God bless," she tweeted.