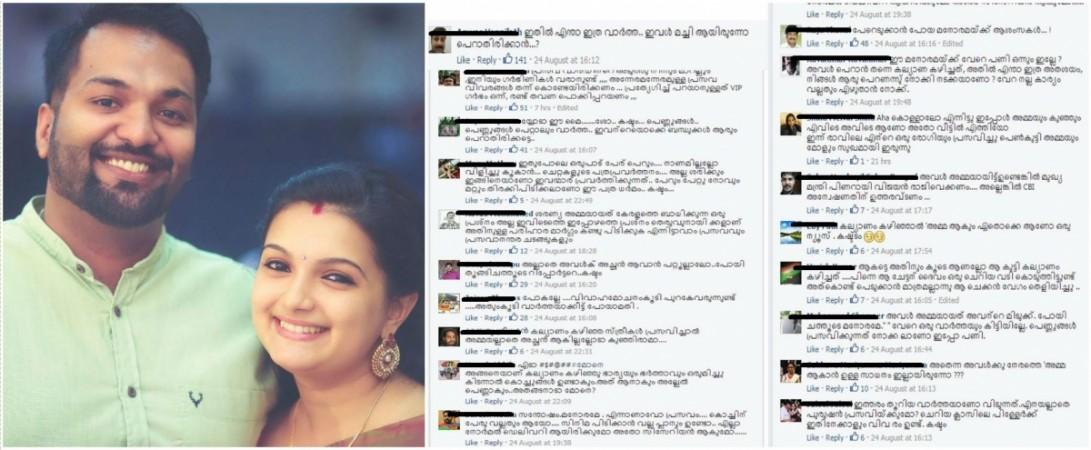 Actress and dancer Saranya Mohan had used her Facebook profile to announce the birth of her baby boy on Aug. 24. Soon, the social media was flooded with news articles about her welcoming the kid to the family.
One of the articles, published by a Malayalam media house, also garnered nasty comments from netizens. It has now forced the 27-year-old actress and her husband, Dr. Aravind Krishnan, to go ahead and respond to the Facebook users.
Also read: Saranya Mohan and Dr. Aravind Krishnan welcome a baby
"Thank You All for your wishes and prayers :) We are doing extremely good :) There is something else I would like to share with you, rather an unpleasant one though. On Wednesday there was a news in manorama online regarding "Saranya mohan becoming a mother" Thanks to Manorama online for that. I really understood how much cruel the online society can be. [sic]," Saranya wrote on her Facebook page while sharing the screenshot of the abhorrent comments that were posted below the news article.
"So many hateful comments about a lady becoming a mother. 90 per cent being the so called educated malayali community. I am very proud of being a woman and am happy that I have a real man besides me who understands me for what I am :) There is a saying 'A man who treats his woman like a princess is proof that he has been raised by a queen.' I wish, the guys who have posted such abhorrent comments about a lady becoming a mother, a speedy recovery from such chronic mental illness."
Apart from Saranya, her husband also responded on the issue. "First of all, thanks to dear friends for the wishes and prayers. Saranya and baby are keeping good. A friend sent me the link of the Manorama article about 'Saranya becoming a mother'. We haven't asked them to make it a news, but the comments under the article were shocking as there wasn't anyone wishing the mother and the baby, instead the reactions were really disturbing. Even though I felt angry, I told my mind that the ones who posted such nasty comments are mentally retarded people. We have the right to speak, but it is tarnishing the image of Malayalis [translated from Malayalam]," Aravind responded through Saranya's official Facebook page.
Saranya's husband particularly criticised a social media user who posted an awful comment.
"Looking at your cover photo and profile, I understood you too are a father, but I do not understand what kind of pleasure you got by posting such negative comments. I wish the kids seen in your photo never go through these situations. We wish them to have a blessed life ahead. Thank you."
Check out the full Facebook post here:
-
-