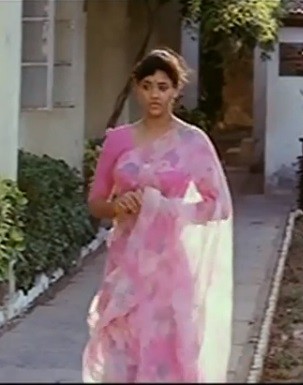 Actress Ranjitha, who was linked to an alleged sex scandal involving godman Swami Nithyananda Paramananda, has become a sanyasini.
Ranjitha has taken a vow to become a sanyasini at the goman's ashram near Bidadi, located around 30 km from Bangalore. The actress has also been re-christened as Ma Anandamayi.
Ranjtha was among the 70 followers, including some foreign nationals, who received deeksha (oath) from Nithyananda on his 37th birthday on Friday. Sources told Deccan Herald that the actress donned saffron dress, chanted prayers and took vows to become a sanyasini. The rituals started at 6 am and went on till 9 pm on Friday. Visitors were restricted from entering the premises. Four policemen guarded the premises, while the ashram authorities had reportedly made security arrangements on their own.
Tension prevailed as activists of some pro-Kannada organisations protested in front the ashram as the news of Ranjitha becoming a sanyasini spread. They also demanded that Nithyananda should be exiled from Karnataka. They shouted slogans against Nithyananda and tore down banners and hoardings of the godman.
However, the protests prevailed only for a few minutes as the ashram authorities closed the door, preventing the protesters from entering into the premises till the ceremony was concluded, Deputy Superintendent of police Ramalingappa of Ramanagaram sub division told The Times of India.
Quoting sources, the news daily reported that Ranjitha, who has now become Ma Anandamayi, has decided to spend the rest of her life at the ashram. She has been assigned to look after the foreign operations of the ashram.