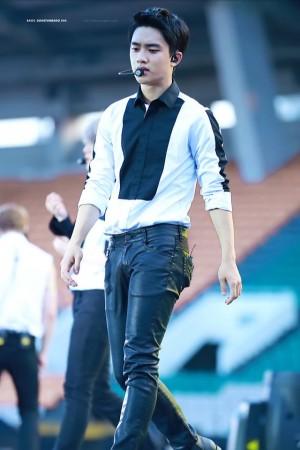 SM Entertainment's boy band EXO is arguably one of the most famous Kpop sensations to emerge from South Korea. The band's fans can take over the Bliebers and perhaps even win. So it was very surprising for EXO member D.O when he was told that actress Kim So Hyun's friends are not fans of the boy band.
This frankness was displayed when the two were promoting their film, "Pure Love", on KBS2TV's "Entertainment Weekly", reported Soompi.
Kim So Hyun acknowledged her co-star's acting credibility and said, "I was also impressed by his portrayal of a psychopath in the drama 'I Remember You.'" However, when asked about her friends' reaction to the fact that she is working with a member of EXO, the actress simply said, "They were happy about it. But none of my friends are fans of EXO."
On his part, D.O retorted asking, "You have friends?"
Later the actress tried to give the interview a lighthearted tone by adding that her friends only have good things to say about the "Growl" singer.
Elsewhere on the show, D.O, 23, spoke about his first love. In a candid confession, the singer said that he first fell in love while he was still in the high school. He added that this incident influenced his character portrayal in "Pure Love".
D.O's film "Pure Love" is expected to release in theatres in February 2016.
Watch the trailer here: