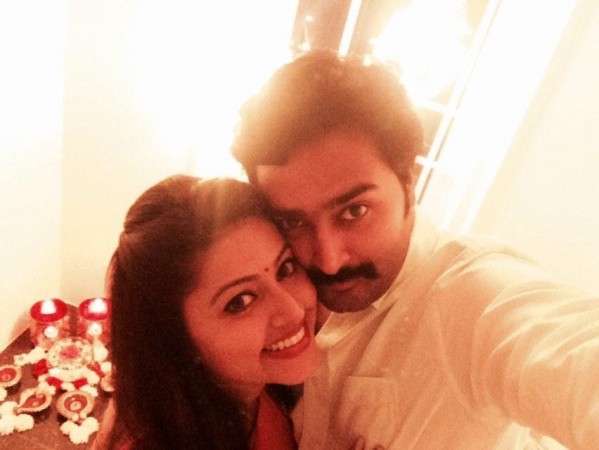 Tamil New Year has turned special for celebrity couple Sneha and Prasanna. The couple announced that the actress is pregnant and that they are awaiting the arrival of their first baby.
The news was shared by actor Prasanna through his Twitter page.
On this special day am extremely happy to share a Gud news with u all. we are awaiting a new member in the familyvery soon.

— Prasanna (@Prasanna_actor) April 14, 2015
Sneha, a popular actress in all South Indian languages, made her debut with Malayalam movie "Ingane Oru Nilapakshi" in 2000 and later went on to become the most sought after actress in south Indian cinema.
Sneha was linked with actor Prasanna after they acted together in the movie "Achachamundu Achchamundu" in the year 2009. Following this, couple was spotted together in various functions and film previews. Though the couple initially denied the rumours, they later announced their wedding and got hitched in Chennai on 11 May 2012.
Meanwhile, the couple is now being flooded with wishes from all quarters of the film industry and may celebrities have wished the couple through Twitter.
@Prasanna_actor and @actress_Sneha Congrats machi!Really happy for both of you.Dheeran is gonna get a new friend soon — Sibi Sathyaraj (@Sibi_Sathyaraj) April 14, 2015
@Prasanna_actor congrats to a beautiful couple. God bless

— Radikaa Sarathkumar (@realradikaa) April 14, 2015
@Prasanna_actor god bless and congrats bro — Cable Sankar (@cablesankar) April 14, 2015
@actress_Sneha congrats snehaaaa :) so happy for u and Prasanna. :) may you be blessed with a happy , lovely baby.

— Divya Vj (@divuvj) April 14, 2015
Congrats guys! @Prasanna_actor @actress_Sneha ore happy than! — Haricharan Seshadri (@Haricharan_Sesh) April 14, 2015
Congrats @Prasanna_actor @actress_Sneha for the wonderful news...tamil putthaandu vazthukkal..god bless

— Prem Kumar (@premkumaractor) April 14, 2015