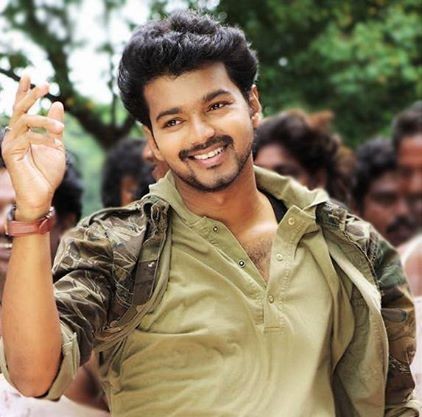 Popular actor Vijay has written to Indian Prime Minister Narendra Modi requesting to withdraw service tax as it affects the growth of the film industry.
In his letter, Vijay wished the PM for guiding the country towards developmental path. The actor has stated that Modi's affection towards the film fraternity has made him put forth a request seeking appropriate action regarding the service tax imposed by the previous government.
Addressing the issue, Vijay stated, "Cinema Industry is not only a medium of mere entertainment for common people, but also generate sizeable revenue for the Government, unfortunately cinema industry is under severe pressure due to margin issues which led many theatres getting converted to shopping malls and marriage halls. Though we have made several attempts in the past to revive this industry, all our efforts became futile since there was no adequate support and understanding earlier."
The actor said that the service tax imposed by the previous government has "not only affected the film industry growth but harmed it to a great extend beyond words." He said that the service tax has affected producers, exhibitors, distributors, film artistes, technicians, people involved in the television sectors and also scores of casual labourers who are involved in various aspects of filmmaking.
Due to heavy loss, several renowned production companies and producers have turned to other business opportunities. "Many investors & producers will stay away from our industry and it will devastate the life and livelihood of more than a million cinema workers and their family who have given their life for this industry," he pointed out.
The "Thuppakki" actor also recalled several film personalities including Amitabh Bachchan, Shah Rukh Khan, Aamir Khan, Rajinikanth, Kamal Haasan, Sarathkumar, Mohanlal, Mammootty, Venkatesh, Nagarjuna, Pawan Kalyan and various bodies of the Indian film industry who in the past have requested cancellation of the service tax against the film industry.
"On behalf of film industry, I humbly request you and your esteemed government to give a rebirth to our industry by exempting service tax levied on us. I am sure that people of India would be very grateful to you and your Government if we manage to resolve this crisis in film industry."
"I am very confident that this exemption will bring new investors, new talents and lots of innovative attempts to emerge and attain world class standards," added Vijay.