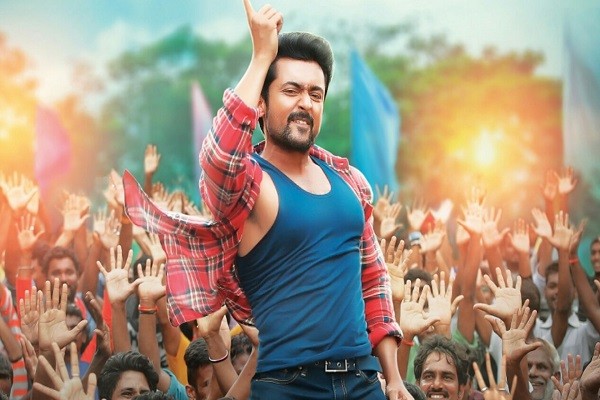 In what could be considered a new low for the Tamil entertainment industry, actor Suriya was body-shamed by two anchors of a leading Tamil GEC (general entertainment channel). The actor, who is basking in the success of Thaanaa Serndha Koottam (TSK), was mocked over his height.
The anchors were discussing Suriya and KV Anand's next movie in a live show. They talked about Amitabh Bachchan doing a cameo in the film and passed some comments when the conversation veered towards the Ghajini actor using heels to match up Anushka's height and requiring a stool to share screen space with Big B.
This outraged Suriya fans, who slammed the channel for airing the show. Some unconfirmed reports say a legal notice has been sent to the channel from the actor's side for making such comment.
Kollywood celebrities too have not taken the issue lightly and have come down heavily on the channel and the anchors. "Funny !! ???? Absolutely not. How unethical in the name of sense of humour. Totally senseless. [sic]" Vishal, the president of Tamil Film Producers' Council and Secretary of Nadigar Sangam, tweeted.
Critic and producer Dhananjayan Govind wrote: "Very shocking to see such mean comments in a popular music channel on the height of a big star. Looks like they have not read history - many great men like Nepoleon who achieved global fame were short in height. @SunMusic must remove this program video totally ✍️✍️✍️[sic]"
"When you dont have skills to run a show dont be stupids plz. [sic]" Karunakaran fumed on Twitter.
Vignesh Shivan, who directed TSK, felt the film industry has become "soft target" for everyone and shared his unhappiness over the apparent disrespect shown towards an actor such as Suriya.
However, a section of Twitterati questioned the film fraternity about body-shaming in films. In movies, comedians are often mocked for their looks and girth by protagonists.
"To those who are asking what about these stars themselves body shaming comedians in movies.Mersal,TSK la Yogi Babu,Perazhagan la that short girl,Vidyu Raman in almost all movies she is in(incl. Mass).Wrong. Let's just take & learn good stuff alone from our fav stars! #Suriya. [sic]" a Twitter user named Preethi wrote.
Another person was of the opinion that mocking actors is not uncommon in the US. "Our actors and Fans need to grow up. The way the US and UK TV hosts roasts the actors and actresses are way worse than this @SunMusic Vjs. For Eg - SNL, Jimmy Kimmel show especially when he trolls Matt Damon, David Letterman made celebrities literally cry. #Suriya," the person named Arun wrote.