Ajay Devgn's latest movie "Action Jackson" is set to release this week and expectations on its performance at box office are high. This has paved way for a lot of analysis. Here, we bring you one such piece on why it cannot beat Shah Rukh Khan's "Happy New Year" and Salman Khan's "Kick" at the box office in the first weekend.
The Ajay Devgn-starrer is no doubt one of the biggest releases of his career. The story is tailor-made for him and people love to see him action-comedy films. This might be the biggest advantage for "Action Jackson" to set new records at the box office.
But it is also difficult for the film to break the first weekend records of "Happy New Year" (₹108 Crores) and "Kick" (₹ 85 Crores), the two biggest releases of 2014. Here we are listing out why.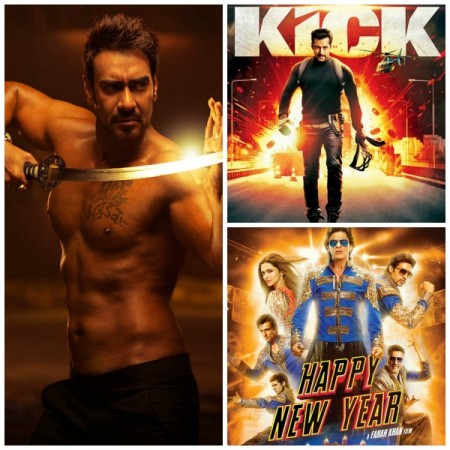 Screen Count
Salman Khan's "Kick" had released in about 4,500 screens in India and over 800 in foreign countries taking its tally approximately to 5,200. And the Shah Rukh Khan starrer, "Happy New Year", was released in 5,000 screens in India and 1,000 abroad taking the tally to 6,000.
But "Action Jackson" is only releasing in about 3,600 screens worldwide. This will be the biggest disadvantage for the film as it will be highly difficult for Ajay Devgn's film to beat the first weekend records in limited screens.
No Festive Time
The timing of the release plays a pivotal role in any film's performance at the box office. The festive season is always considered to be the best for movies. Be it Diwali or Eid, Bollywood films have done brilliant business during such occasions as the turn out will be high.
In the case of "Action Jackson", the film is releasing during normal days. Even Christmas is two weeks away. So, this is one more factor why "Action Jackson" cannot break the records of "Happy New Year" and "Kick", which were released for Diwali and Eid respectively.
Devgn is no Khan
This might be the harshest truth. Ajay Devgn is an A-list actor, but his films are no match to the openings garnered by the films of the Khans (Shah Rukh, Salman and Aamir).
This does not mean that Devgn's films lack good content, but it is about the star power to attract audience. The Khans' films, irrespective of the content, pull huge audience to theatres and the opening that their films got in the recent years will reveal the complete story.