The Academy of Country Music (ACM) Awards 2017 kicked off from T-Mobile Arena in Las Vegas on Sunday, April 2 and the biggest names from the entertainment industry, including Singers Carrie Underwood and Miranda Lambert, donned their best looks at the red carpet arrivals.
Also Read: Academy of Country Music Awards 2017: Miranda Lambert creates record; complete winners list
The red carpet arrivals gave the fashion on-lookers an opportunity to check out some of the best outfits to choose for parties and other major events. It also highlighted sexy and skin revealing gowns worn by the stars.
Lori McKenna, Kellie Pickler and Tegan Marie, Jessie James Decker, Lauren Alaina and singer Cam were the among the few who stole the limelight with their red carpet look. Check out the top celebrities and tell us in comment section below, who according to you is best and worst celebrity.
Carrie Underwood walked the red carpet in a sparkling beige gown with flares below the waistline, flaunting her curves. She accessorised the outfit with diamond rings, studded earrings. The nude dress was teamed with matching heels.
Singer Kellie Pickler kept it all simple with a pure black off shoulder gown. The fish-cut gown with diagonal pleats below the waistline showed off her curves. She paired the outfit with a matching velvet clutch.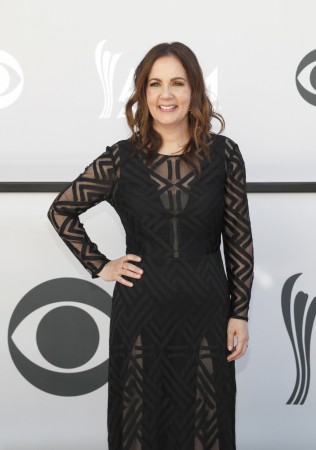 Singer-songwriter Lori McKenna looked stunning in a black gown as she walked the red carpet showing off her curves. She opted for see-through lace fabric for arms and neckline and kept it simple by just pairing the body hugging outfit with studded earrings.
Singer Reba McEntire captured all the attention with her black and white outfit. She accessorised the dress with a pair of hoop earrings, two rosaries, a beaded chain and two studded rings.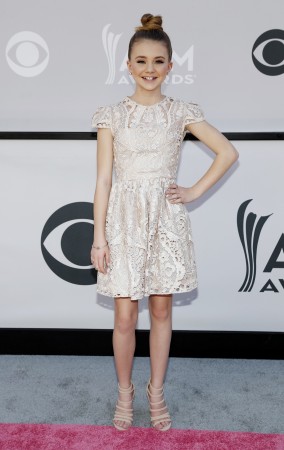 Tegan Marie walked the red carpet in an off-white A-line frock, which was teamed with a pair of matching heels. She looked like a princess in the lace outfit that was accessorised with several rings, studded earrings and a bracelet.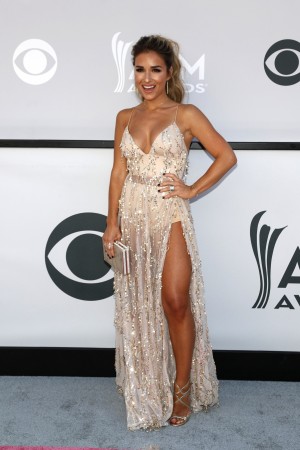 Singer Jessie James Decker opted for a plunging dress for the red carpet arrivals. The sparkling outfit with a daring thigh-high slit exhibited her ample cleavage and toned legs. She paired the revealing dress with sliver heels, studded rings, simple neck chain and studded earrings.
Singer RaeLynn risked wardrobe malfunction through her see-through floor-length black gown. The sleeveless high-neck dress nearly flaunted her assets underneath it as she walked the red carpet showing off her curves. Her toned legs and amps were clearly visible through the lace dress.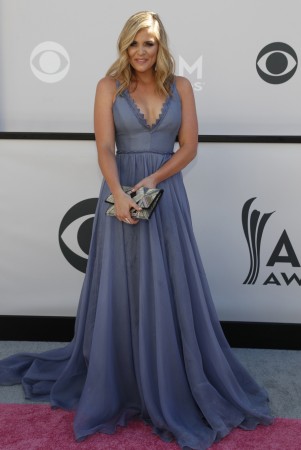 Lauren Alaina walked the red carpet in a blueish grey plunging gown, which flaunted her curves. The sleeveless dress with flares flowing down her waistline highlighted her toned arms and shoulder. She accessorised the outfit with studded rings, a nose ring and a pair of earrings.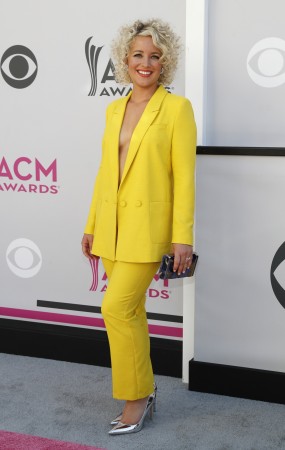 Singer Cam opted a daring outfit for red carpet arrivals and nearly flashed her assets. She turned heads by showing off her yellow blazer open exhibiting her bare chest.
Singer Miranda Lambert walked the red carpet in a plunging white gown. She accessorised the attire with a pair of studded earrings, diamond necklace, a designer bangle and several diamond rings.