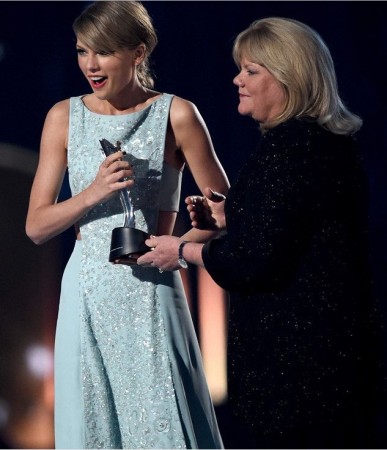 Taylor Swift has done it again. And looks like the singer is one of the favourites in the Academy of Country Music circuit. After having recongnised the singer year after year for her contributions, ACM, this time around, has chosen her to be one among the honourees for the Milestones Award. And it was the pop-singer's mother Andrea Taylor who presented Swift with the award at ACM 2015.
But what no one expected was mother Taylor' emotional speech about how proud she was of her daughter. "I've watched this milestone artist from the time she was a tangled-hair little girl...full of imagination and creativity until right now when she prepares for her next world tour."
The 'Today was a Fairytale' singer's mother's speech wasn't all emotional as she managed to put a smile on the audience's faces when she let them in on some of her daughter's song-writing secrets.
"Her dad and I strongly disapproved of a certain young man. And rightfully so," she said. "But she was mad, she was real mad, and so she went to her room and she closed the door. And she came out about an hour later with a song called 'Love Story'. Who would have though teen anger was so productive!
It was soon that tears had started to pool in the proud mother's eyes and after thanking ACM, the entire music community and her fans for supporting her so much, she quickly proceeded to call Swift to receive the award.
After giving her mother a sweet hug, Swift told that she was grateful to get so much support when she announced that "1989" will solely feature pop songs. "Somebody once told me you see who a person is when you give them news they weren't expecting," she said. "I'm so unbelievably proud that I learned to treat people with kindness and respect from country music, the singer added.
Well, but looks like haters will always find reasons to hate. While the "Everything Has Changed" singer was enjoying her moment of fame, Twitter was filled with country music lovers taking pot shots at the singer saying that she wasn't "country enough to be in attendance", reported Hollywood Life. They felt like Swift has swayed too much into the territory of pop as the "Blank Space" singer has sold over a million copies of her recently released full pop album "1989".
So what if the haters are "mean" to the artiste's choice of genre, the 27-year-old has just "shook it all off" by becoming one of the most popular musicians today.
I refuse to classify Taylor swift as country music she is pop

— Jack Thompson (@J_thompson_49) April 20, 2015
Seriously though, did Taylor Swift leave country, or did she just transcend it?

— Jacob Klinger (@Jacob_Klinger_) April 20, 2015
TAYLOR SWIFT ISNT IN COUNTRY MUSIC ANYMORE WHY IS SHE THERE?

— Andybilly (@Andyweaver2) April 20, 2015