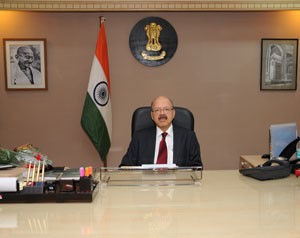 The former Chief Secretary of Gujarat, Achal Kumar Jyoti, was appointed as the Election Commissioner of India on Thursday.
Jyoti, who served as the chief secretary during Narendra Modi's term as Gujarat's Chief Minister, has filled one of the two vacancies in the three-member panel of the Election Commission of India (ECI).
He will serve as the Election Commissioner for a period of three years, resigning at the age of 65 (the official age to demit office under the Constitution), PTI reports.
Born on 23 January 1953, 62-year-old Indian Administrative Service (IAS) officer of the 1975 batch served at various posts in Gujarat, including, as the Chairman of the Kandla Port Trust between 1999 and 2004 and Managing Director of the Sardar Sarovar Narmada Nigam Ltd (SSNNL).
After retiring as the chief secretary in January 2013, he was appointed as the State Vigilance Commissioner of Gujarat, the post he will vacate in June 2015 after his tenure ends. He said he's waiting for the formal orders and will join the new post soon after his retirement.
"I am yet to get formal orders. I was approached by the central government three-four months back for my consent. I expressed my willingness to join the Election Commission. My term as State Vigilance Commissioner ends in June 2015. So I will take the permission of the state government to resign and join the Election Commission as soon as possible," said Jyoti, according to The Times of India.
He will join his new post under Chief Election Commissioner Nasim Zaidi, who is one-year junior to Jyoti in IAS.
The government will soon appoint the second Election Commissioner to fill up the last vacant position.