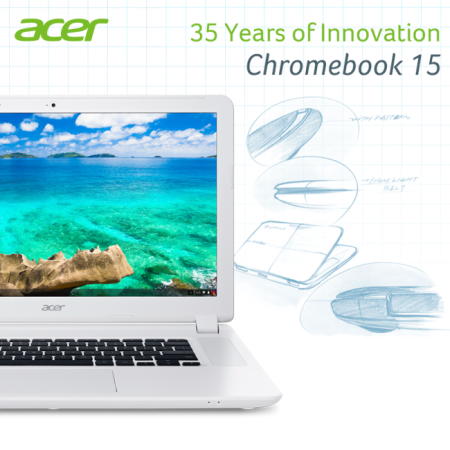 Acer unveiled the latest version of its Chromebook model with the largest screen size ever, measuring 15.6 inches diagonally.
The new entrant not only takes the biggest Chromebook title but also offers extreme customisation options, right from storage, screen resolution, RAM and processor.
Along with all the features, Acer Chromebook 15 offers all the great features of Chrome OS with a lasting battery to make it suitable for on-the-go usage.
The Chromebook 15 joins the existing range of Chromebook series. It features a 15.6-inch display that comes in two different resolutions. The higher-end model features a Full HD 1920x1080 pixel resolution while an entry-level model sports just HD 1366x768 resolution. The change in screen resolution does not affect the display size, as it is simply to offer variable options to consumers based on their budget.
"The Acer Chromebook 15 is a true powerhouse – it provides fast mobile performance and a large display to help customers accomplish more every day," Jerry Kao, president of Acer Notebook Business Group, said in a statement.
"Acer has been a leader in the Chromebook market, from providing the latest in technology and trailblazing battery life to designing new form factors. We're driving the category forward again with the world's first 15.6-inch display Chromebook, the Acer Chromebook 15."
Acer offers various customisation options such as 16GB or 32GB SSD, 2GB or 4GB RAM and most importantly a twisted choice between Intel Core i3 and Intel Celeron processor based on the fifth gen core micro-architecture.
Other features in the Chromebook 15 include USB 3.0 port, USB 2.0 port, HDMI port, SD card reader, fast MIMO 2x2 Wi-Fi, stereo speakers on each side of the keyboard and all-day battery life.
The new Acer Chromebook will be on display at CES 2015 in Las Vegas but the availability details are scanty.
Buying the Chromebook 15 will also be light on pocket as the entry level model starts at $249 in the US and the company has promised to release market-specific details as they emerge.