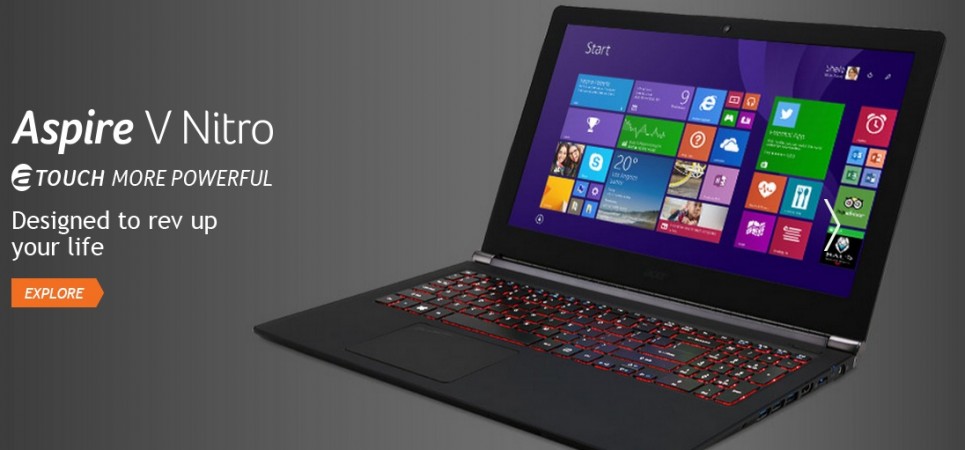 The much-awaited Acer Aspire V Nitro VN7-591G, a high-end entertainment laptop with amazing display, graphics and performance, is all set for release in India a few months after it was launched in the West.
Acer India has confirmed in an email that its Aspire V Nitro VN7-591G laptop will be available in India from 25 June. However, it refused to reveal its price, saying that it will be announced only after the launch event.
In a possible accident, Acer India teased its new device from Aspire V Nitro series on its website, hinting that it would arrive in India soon, but gadget lovers were left confused as the link led to a blank page. However, the company has now cleared all doubts by revealing its release date in India.
Acer Aspire V Nitro VN7-591G has a 15.6-inch UHD (3840 x 2160) 16:9 IPS, powered by Intel Core i7-4720HQ Quad-core processor, clocking at 2.60 GHz, and comes with Windows 8.1. It boasts of NVIDIA GeForce GTX 960M with 4 GB dedicated memory in terms of graphics, making it one of the best gaming machines.
Available in black color, Aspire V Nitro VN7-591G also comes packed with storage of 1 TB HDD, 12 GB memory and DDR3L SDRAM, which means it can cope intensive software and high-end games.
Priced at $​1499 (£​965​), Acer Aspire V Nitro VN7-591G is cheaper than most gaming notebooks currently available in the market. Sources said that it could come with a price tag above ₹90,000, probably around ₹96,000, but Acer India has said that it will officially announce the price only at its launch event on 25 June.