Acer has a wide range of PCs in the market and users can choose from fully specced up laptop for gaming to a portable notebook. We received the review unit of one of Acer's machines that fits in the latter category. Acer Aspire R11 (R3-131T) is a suitable travel companion that has a few hits and misses.
There are plenty of notebooks in the market from various brands, and Acer's Aspire R11 is one of them. What truly stands out in this device is how it manages to balance between portability and decent performance.
After spending ample amount of time with Acer's compact Aspire R11, we have learned its pros and cons. Should you plan to buy this notebook, here's what you need to know.
Design
Acer Aspire R11 is a compact machine, handy enough to carry it around. It weighs around 1.5kgs, which is decent for a compact notebook, but using it as a tablet can get tricky. The textured plastic design on the back and the bottom throws away a funky look, which will be appreciated by the young crowd, and it is also sturdy with a solid grip.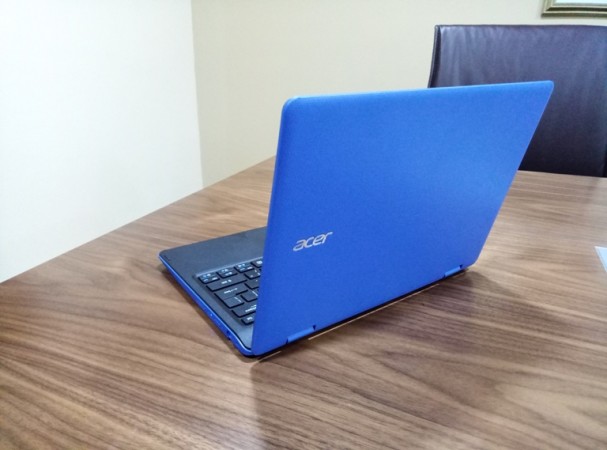 The Aspire R11 can be turned all the way back to use it as a tablet, but the thickness in the converted mode can be a bit uncomfortable. The placement of the keys is well-thought with both power and volume controls sitting on the right side panel.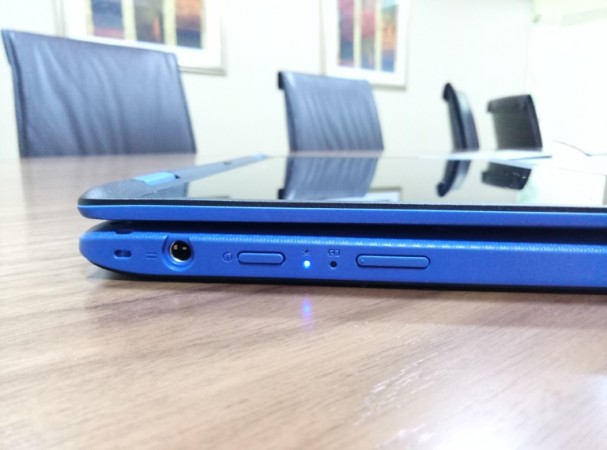 The charging slot is on the right, but all your connectivity options including the LAN port, a port for HDMI, 2 USB ports and a 3.5mm headphone jack sit on the left side of the machine. The display screen is pretty robust, thanks to a Gorilla Glass, but it easily attracts smudges after a while of use.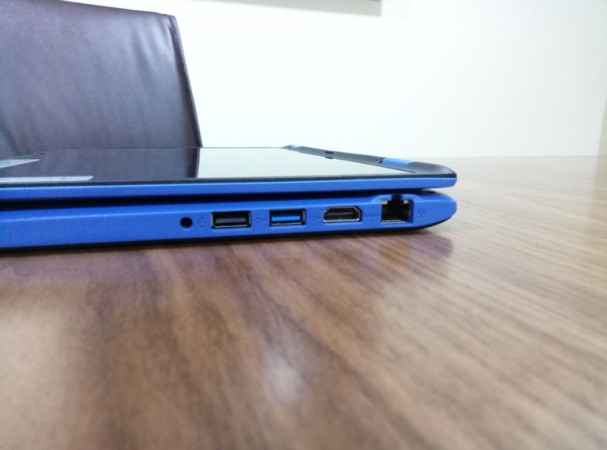 We also found the Aspire R11 to be extremely easy while switching between tablet and laptop modes, thanks to the well-positioned hinges. It is rugged and can handle swift shifts without the fear of breaking.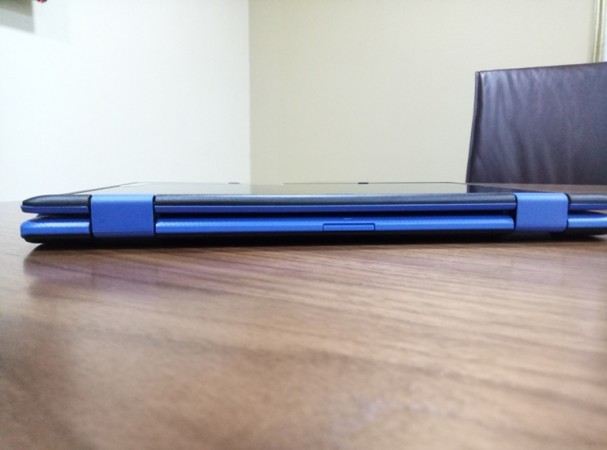 The keyboard is quite comfortable to use with suffice spacing between each key. The trackpad is as large as it can be. The ease of use with the keyboard makes Acer Aspire R11 one of the most user-friendly notebooks we have in the market. The compact size of the machine doesn't hinder the keyboard typing experience.
Check out some photos of the Acer Aspire R11 in different positions:
Display
Acer Aspire R11 features an 11.6-inch touch display with a screen resolution of 1366 x 768 pixels. We were not entirely happy with the display's clarity as some colours seemed lost. Since it is a convertible notebook, there is high expectation on the viewing angles, which is poor in the Aspire R11. The screen reflection in low brightness levels can be really annoying, especially when you are watching a movie. Adjusting the brightness levels can help, but causes strain in the eyes for long-term exposure.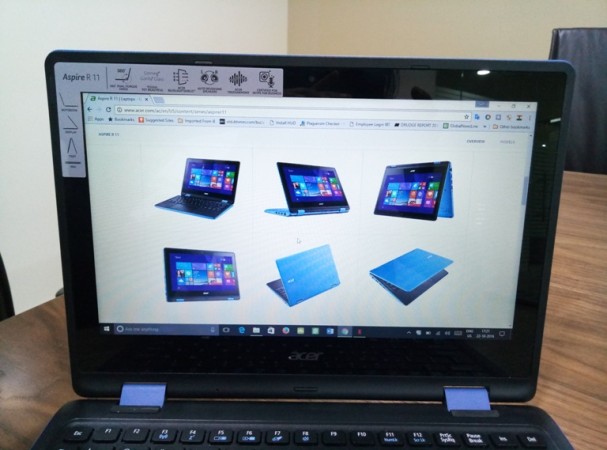 Battery
Before we jump right into the Aspire R11's performance, we would like to highlight the battery of the machine. We were truly impressed by what the Aspire R11 has to offer. Our claim for it being a true travel companion relies mainly on the fact that it can easily last for long hours without worrying about finding a power source to charge. In fact, the notebook's charging time is one other thing worth noting. It takes less than two hours to fully charge, which is acceptable for a 4-cell battery of 3,270mAh delivering up to 8 hours on average use, which includes watching movies, occasional online streaming, working on offline apps and a bit of work.
This gives its users enough time to work, play and watch movies without worrying. The Aspire R11's battery is a solid reason for purchasing this notebook at its price.
Performance
Notebooks are not suited for high-performance and for a machine under Rs. 30,000, Acer Aspire R11 does a decent job. It is powered by a 1.60GHz Intel Pentium N3710, 4GB RAM and has 500GB of onboard storage.
We did notice lags while running multiple apps. With around 10 tabs open on Google Chrome, running video in the background and using Word all at the same time, it felt like the Aspire R11 was pushing the limits. It certainly did not shut us down completely, but struggled to deliver its best.
As long as you are watching a movie, browsing the web or working on internet, the Aspire R11 is likely to deliver its best. But as and when you throw in extra activities such as games, which consume high power, expect a lag. If you want performance at the same cost as the Aspire R11 then Chromebooks can serve as a better alternative.
On the software front, Acer Aspire runs Windows 10 Home out-of-the-box and any Windows user will find it easy to navigate through options with the help of keyboard and the touch screen.
Verdict
An avid PC user who wants a high-performing machine for various tasks such as video editing and running powerful, graphics-heavy games is probably well off without Acer's Aspire R11. But if you are looking for an average PC with decent performance for regular office works, watching movies, or playing games like Candy Crush and Minecraft while on-the-go, then Acer's portable machine is what you really need.
Acer Aspire R11 is priced at Rs. 28,999, but you can find some deals (like Diwali-special offers) on e-commerce platforms to save you some extra cash. For the price, the Aspire R11 is a decent machine and its portability and lasting battery gives it an extra edge.