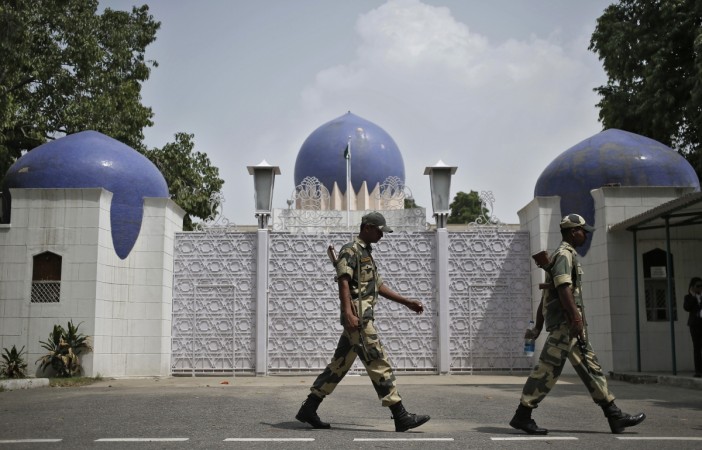 At least eight Indian officials from its high commission in Islamabad could return after six members of the Pakistan mission left India on Wednesday amid accusations of alleged spy rings being operated.
The identities of the Indian diplomats were posted by Pakistan news channels and online media on Wednesday, which compromise their safety. Two of the Indian officials were accused of espionage and "subversive activities."
The accusations against Indian diplomats come after the release of a video of the interrogation of Mehmood Akhtar, a Pakistan high commission official, arrested and expelled last week on charges of spying, by the Delhi Police. Akhtar had named six more Pakistani officials as members of the spy ring. Among the six, four were of the rank of first secretary. All six of them left India with their families on Wednesday.
The Indian officials' faces were flashed on Pakistani media, which raised concerns over their safety, sources told the Hindustan Times. They will be called back as there is danger to their lives.
Initially, Indian commercial counsellor Rajesh Agnihotri and press secretary Balbir Singh were accused to be intelligence agents and later, six more people were named. Among the eight officials are a counsellor, three first secretaries and four assistants.
Releasing the identities of the Indians in Islamabad is being seen as a tit-for-tat against release of Akhtar's video.
India and Pakistan have been at loggerheads since the Kashmir unrest after Hizbul Mujahideen leader Burhan Wani's death. Following months of standoff, terrorists attacked an army base in Kashmir, which lead to the death of 19 soldiers. To avenge that, the Indian Army conducted surgical strikes on terror launch pads across the LoC.
Civilians have been targeted along the border, as Pakistan continues to violate ceasefire. As many as 20 civilians, including women and children, have died in mortar shelling and gunfire from across the border.