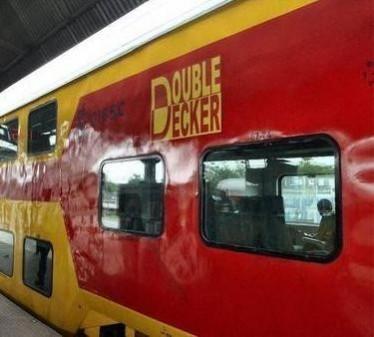 Passengers travelling between Delhi-Jaipur can now board a new Double-Decker train.
The train, which has 13 coaches, can accommodate 120 passengers in each compartment. Fifty of the 120 seats are on the upper deck, 48 are on the lower deck and rest 22 are at normal height.
The one-way ticket will cost Rs. 327, same for all the compartments and sets, and will take four-and-a-half hours to reach the destinations. It will stop for 2 minutes each at Jaipur Gandhinagar, Gurgaon and Delhi Cantt stations in both the directions.
The train (No. 12985) leaves daily from the Pink city at 6:00 am and reaches Delhi Sarai Rohilla at 10:30 am and train no. 12986 will depart from Delhi at 5:35 pm and reaches Jaipur at 10:05 pm. It will ply on all days of the week.
"The price is very economic for an AC train as travelling through Volvo AC bus costs around 500 to 800 Rs, and it can accommodate more number of passengers than the previous one," GD Mathur, a railway official, told IBTimes.
"The timings are perfect for people who (travel) up-down between the two cities on a regular basis".
However, on the other side, the Jaipur-Delhi non-stop special train, that has now been stopped and replaced by the new one, had both AC and Non-AC coaches, costing only Rs.99 for Non-AC Chair Car and about Rs. 200 for AC Chair Car seating.
Manufactured by the Rail Coach factory, Kapurthala in Punjab, the new double-decker coaches are 4.36 m high, 3.25 m wide and have been designed with anti-climbing technology along with crash-worthy shells. Railway minister announced a group award of Rs. 5 lakh to the unit.
Well, on one hand the new AC double-decker train will accommodate more people and provide a smooth and comfortable ride, it might cause trouble to the passengers who prefer travelling in NON AC train for a much lower cost.