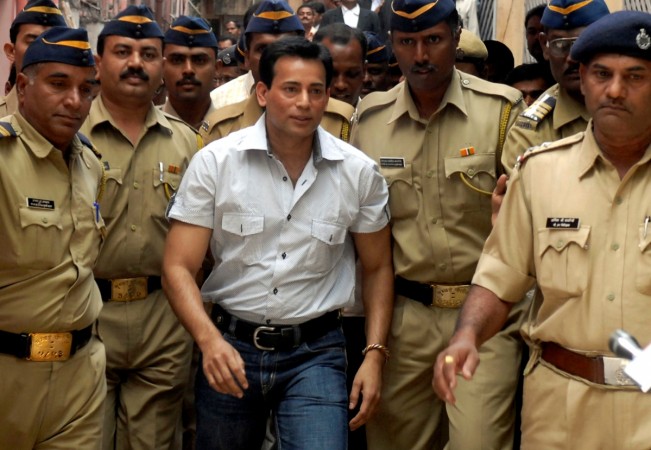 Even though gangster Abu Salem was sentenced to life imprisonment on Thursday, September 7, for his role in the 1993 Mumbai serial blasts case, it is unlikely that he will spend his entire life in jail. While extraditing Salem from Portugal in 2005, India had assured the country that the infamous gangster would not be given death penalty or life imprisonment.
Hence, it looks like Salem will have to remain in prison for 25 years and not until his death.
"As per the Extradition Treaty between India-Portugal, this is the maximum sentence permissible to him since the death penalty is banned in Portugal where he was first arrested," Special Public Prosecutor Deepak Salve said after the verdict, according to IANS.
Speaking to the Hindustan Times after the verdict, advocate Rishi Malhotra, who represented Salem, also explained that by handing his client a life imprisonment sentence, the TADA was violating an undertaking given to Portugal by the Indian government.
"Salem was extradited from Portugal after giving an undertaking to Portugal that Salem will not be given a death penalty or sentenced to a jail term exceeding 25 years. Normally, a life term means the convict stays behind bars till the end of his life. But in this case, the TADA court has given him a life term which violates the undertaking given by the government of India," Malhotra noted.
As the undertaking cannot really forbid the Indian court from handing a life imprisonment sentence, the Indian government had added a clause to the undertaking that in case he is handed such a sentence, it would restrict the move. While the TADA court has pronounced its verdict, it now remains to be seen if the undertaking with Portugal will shorten his sentence.
"It is now for the government to see that undertaking given to Portugal government is not violated and it can easily be taken care of. The government has powers of remission and pardon and to honour its undertaking, it can exercise powers and pardon Salem's remainder of the sentence given by the trial court," HT quoted advocate Sudeep Pasbola, who had defended the gangster.
However, former Maharashtra advocate general Shrihari Aney explained that the extradition terms stand violated only if Salem is tried for particular cases and if the government has not disclosed facts about the gangster.
"If the government found new evidence against the accused after the extradition, the accused would be tried under fresh material under the Indian law and procedure of Indian judiciary. This cannot be a violation," Aney explained.
The debate comes after the TADA court pronounced the sentences of five of the six convicts in the case. While Tahir Merchant and Firoz Khan were sentenced to death, Karimullah Khan was handed life imprisonment. Another convict Riyaz Siddique was given 10 years, while sixth convict Mustafa Dossa died at the JJ Hospital in Mumbai on June 28, 2017, after suffering a cardiac arrest.