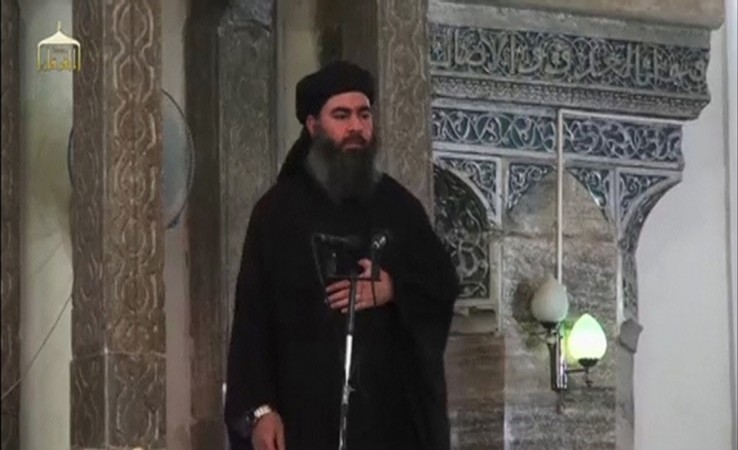 Several new information that could give more insight into the life of Abu Bakr al-Baghdadi, the leader of the notorious militant group Islamic State (Isis), have been released online.
A declassified document acquired by Business Insider claims that the real name of the Islamic State leader is Ibrahim Awad Ibrahim al-Badry, a 43-year old married man.
The documents that have been posted on Scribd also contain a prison image of the Isis leader that shows him as a bespectacled man with a beard and slightly receding hairline.
Check out the pictures here.
The prison records claim that he held a secretary's job and was arrested as a 'civilian,' which means he had no known militant association at the time of his arrest.
Isis Leader's School Days
The German broadcaster ARD also has released a series of documents that include a certificate of Iraqi citizenship and a high school graduation paper, besides several images of the dreaded leader of the Islamic State militant group.
#العراق | بعض الوثائق المتعلقة بابوبكر #البغدادي متزعم مقاتلي #الدولة_الإسلامية pic.twitter.com/LC6WCbATGh

— Zaid Benjamin (@zaidbenjamin) February 18, 2015
His school records claim that he was born in Samarra, an Iraqi city located near the bank of the Tigris River in the Salah ad-Din Governorate in 1971.
One of the images shows a young Baghdadi with a beard and wearing a white turban and white robe.
As a young student in the Samarra High School, al-Baghdadi excelled in Mathematics and Geography. His records show that he scored high marks and might have been a promising student. English seems to have been the only language he struggled with.
In Mathematics, his certificates show, he scored a neat 98%, Geography 90%, Arabic language studies 80% and History 75%. However, in English he scored the least -- 57% with 50% being the pass mark.
Does this look like the face of the evil? This is Abu Abkr al Baghadi ? really? pic.twitter.com/crISeS46bx — Newsitis (@Newsitis) February 20, 2015