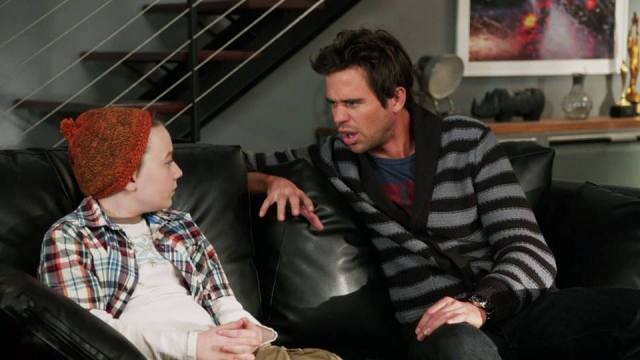 NBC's "About a Boy," based on the 2002 film of the same name, premiered on Saturday and garnered some good reviews from television critics, who were not expecting much to come out of a television show, based on a movie.
The comedy centers around Will, played by David Walton, a carefree bachelor, who befriends Marcus, the 11-year-old son of his next-door neighbour Fiona (Minnie Driver), to land a hot date. While the movie version sees Will setting up Fiona with a do-gooder, the pilot plot indicates that in the comedy, they might end up as a couple.
Talking about the show, Driver said that it was the "good writing" of the show that drew her to "About a Boy".
"It was the pedigree of the people involved and how good the writing was. There's some big shoes to fill... Nick Hornby, Working Title, the Weitz Brothers, Toni Collette, and yet, Jason Katims understands how the movie ends and how the television series begins and takes it on and expands on everything," she told Glamour.
"It's just brilliant, and he understands comedy and drama so well. Those are the movies that we love the best. It's never just a straight comedy or a straight drama," she added.
The first episode also focuses on Will's strengthening bond with Marcus, played by Benjamin Stockham. Marcus is depicted as a weird but adorable kid, who is severely bullied in school. Will initially sees Marcus as a date-baiter but soon grows fond of the child and steps up to help him.
While the first episode was indeed promising, it is too soon to say if the show will draw audience.
USA Today noted that the show has the potential to become a hit if it works on strong performances and developing a sizzling chemistry between the lead characters. Focusing more on the strong bond between Will and Marcus, which a number of reviewers said was the charm of the show, will work wonders for the show.