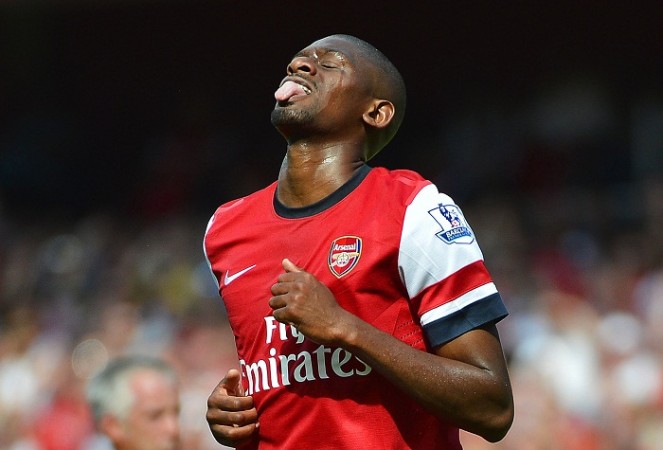 Arsenal and Abou Diaby might have finally parted ways after one of the "if only" careers of all-time, but the former France international is not ready to hang up his boots yet, with a potential move to the MLS in the shape of FC Dallas being mooted.
Diaby's Arsenal career was littered with injuries since signing from Auxerre as a highly-rated midfielder, someone who could take over the mantle from Patrick Vieira, even if he was more attack-minded than the former Arsenal captain.
However, a serious injury sustained a few months after signing for Arsenal completely curtailed his career at the club, with one injury following another in a seemingly never-ending line.
Diaby only made 22 appearances for the Gunners in the past four years, leaving Wenger, who has been patient and then some with the midfielder, hoping for an improvement in his injury record, with little choice but to bid goodbye.
"Abou Diaby, together with academy players Jack Jebb, Austin Lipman, Brandon Ormonde-Ottewill and Josh Vickers, are leaving Arsenal, having reached the end of their contracts," Arsenal said in a statement on their website.
"Arsenal would like to take this opportunity to thank Abou, Jack, Austin, Brandon and Josh for their contribution to the club and to wish them well for the future."
There were some reports which suggested Wenger was still ready to offer a pay-as-you-play deal to Diaby, while the Telegraph reports the Arsenal manager will allow the 29-year-old to train at London Colney to help build up his fitness before looking for his next move.
However, according to France Football, Diaby looks set to join MLS side FC Dallas, with the negotiations over a potential move in the advanced stage.
If the move does happen, all one can hope is that Diaby has a few injury-free seasons. Because when he was in full flow, there were clear signs as to why Wenger always said he had the potential to be a world-class midfielder.