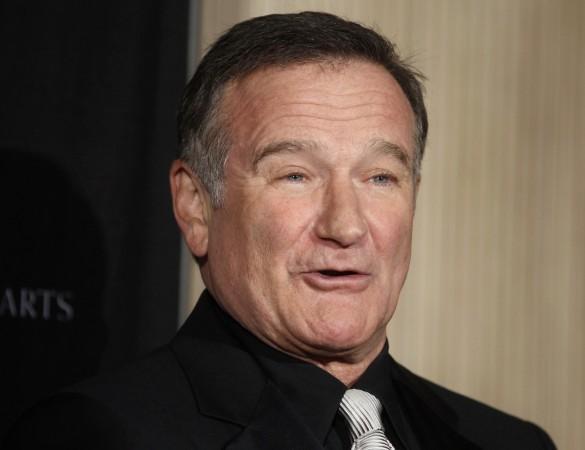 Popular Hollywood comic actor Robin Williams, 63, was found dead on Monday. He was found unconscious at his home in Northern California and was later declared dead, in an apparent suicide.
Williams is remembered for his performance in various drama and comedy roles. The actor rose to fame with his role as an alien Mork in the television series "Mork & Mindy". He later went on to some excellent roles in well acclaimed films like "Popeye", "The World According to Garp", "Good Morning Vietnam", "Dead Poet Society", "Awakenings", "Hook", "Aladdin", "Mrs. Doubtfire", "The fisher King", "Jumanji", "Good Will Hunting", "The Birdcage", "Night at the Museum" and "Happy Feet".
Williams was nominated for the Academy Award three times and received the golden statuette for the Best Supporting Actor for his performance in "Good Will Hunting". He was also recognised with two Emmy Awards, four Golden Globes Awards, two Screen Actors Guild Awards and five Grammy Awards.
Meanwhile, fans across the globe were shocked to receive the comedian's death news. They paid their homage and respects to him. Many Indian celebrities expressed their thoughts and memories about Williams on social networking sites.
Here are some of the tweets from the Indian celebrities
"This is just too sad.....RIP Robin Williams" - Karan Johar
"No amount of thank-yous are enough - yet thank you - Robin Williams -RIP" - Riteish Deshmukh
"Oh captain, my...... terrible news about the passing of one of my favourite actors. Mr. Robin Williams.This is the 1st time he made anyone cry." - Abhishek Bachchan
"One who made us laugh left in sadness .... One of the greatest actor and comedian ...Actors are so deceptive .. :( .. RIP Robin Williams" - Anushka Sharma
"Heartbroken and shocked! Rip Robin Williams :(" - Bipasha Basu
"The world just became a sadder place :( Goodbye Robin Williams. Thank you for all the laughter."- Kunal Kapoor
"Robin Williams :("- Dhanush
"Rip Robin Williams ..makes me so sad to hear this news. My heart aches. doesn't matter how successful u r. The mind is a strange place.." - Nargis Fakhri
"Oh no, no, no :( #RobinWilliams" - Diana Penty
"Been rewinding Robin William's films in my head over and over again. Wish we could rewind the last few hours." - Boman Irani
"#RIPRobinWilliams shocking to hear this... Here is a scene to remember him by http://youtu.be/vq_XBP3NrBo #WhatWillYourVerseBe?" - Uday Chopra
"Robin Williams. What a loss! You leave behind a vaccum difficult to fill but your remarkable body of work will continue to inspire. RIP" - Shabana Azmi
"Crushed after hearing this. Rip robin Williams your an insipiration and a teacher. Maybe the angels need some fun" - Varun Dhawan
"Stunned and shocked, Mrs.Doubtfire, dead poets society, goodwill hunting... RIP Robin Williams. Original to the core!" - Anil Kapoor
"Oh god.. How do u tell Ur kids Mrs.Doubtfire has died!? RIP Robin Williams.. Thank u for the laughter n the movies!"- Farah Khan
"Sad to knw that one of my most favourite actors of Hollywood is no more!!!!RIP Robin Williams!!u will b missed deeply!!" - Priya Mani
"Sad to hear abt Robin Williams-RIP n thank u for all the laughs"- Siddharth Malhotra
"Woke up to the awful and tragic news of Mr. Robbin Williams.He touched our hearts through so many wonderful characters.RIP captain o captain" - Arjun Rampal
"So ironical...a man who kept us in splits with his sense of comedy was under severe depression...will miss the great #RobinWilliams" - Kushbu Sundar
"Goodbye Mr. Williams. And thank you.You will always be Mrs. Doubtfire for me!!! :)" - Parineeti Chopra
"Robin Williams. Thank you for the decades of entertainment. RIP." - Farhan Akhtar
"RIP Robin Williams ,U ve left us with so much to laugh abt with ur performances .But u ve gone too soon! so sad." - Neha Dhupia
"RIP Robin Williams u will always remain in my memory as Mrs doubtfire...hope u find happiness up there u mad genius." - Arjun Kapoor
"OMG!!!! Robin Williams. He passed away. I am sooooooo upset. This is such sad news. RIP !!!" - Neil Nitin Mukhesh
"Robin Williams taught us that it is the spark of madness in our lives that keeps us sane. R.I.P." - Shobhaa De