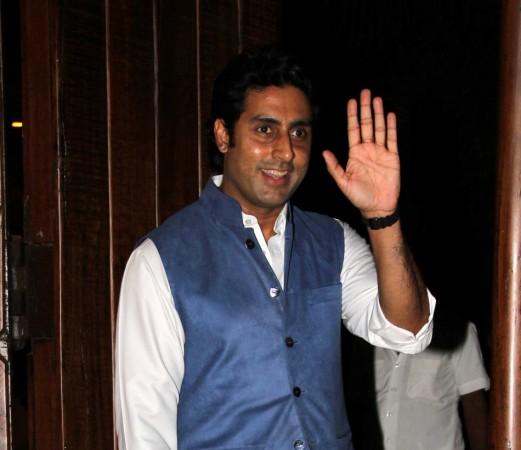 Bollywood actor Abhishek Bachchan appears to be in a mood to crack some blunt jokes on his counterparts, in the next episode of "Koffee with Karan."
Abhishek will feature on the upcoming episode of Karan Johar's talk show with Farah Khan. The duo is currently working in the multi-starring "Happy New Year."
By the looks of the promo of the episode, the pair appears comfortable in taking digs at some of the prominent Bollywood names.
When Johar questions Farah on Ranveer Singh's oiled physique in "Ram-leela," she is seen making a cheesy remark. "The oil may be too slippery to do anything..." she is heard saying.
Her couch mate Abhishek sounding politically correct, interjected that Ranveer's physique in the film was fantastic. However, he explained that he was averse to waxing his chest hair. "My mother always said never trust a man without a chest hair," he added.
While Abhishek's tongue-in-cheek comment may seem hilarious, it is to be noted that Bollywood's ideal clean chest stud look is associated majorly with Salman Khan. Even Ranveer's toned look in "Ram-leela" was compared tp Salman's when the film released.
The "Jai Ho" star was the first actor in the industry to sport the shirtless waxed chest look, making it a raging trend.
Salman first showed off the perfect hairless torso in his 1998's superhit film "Pyar Kiya Toh Darna Kiya". He was seen grooving to the song "O O Jane Jana," raising the number of his female fans.
Since then, Salman's clean chest bare look has come to symbolize the ideal macho look of Bollywood men.
Abhishek's dig makes it evident that he is in a mood for some fun at Salman's expense. After all, the awkward relation between Abhishek and Salman is obvious to the film fraternity.
While he might have taken digs at Salman during the talk show, Abhishek along with Riteish Deshmukh will also be seen poking fun at Salman's famous patch up with Shah Rukh Khan. The duo will be hosting an awards show that will be aired later this month, during which they will be seen joking about the famous Salman-SRK hug.