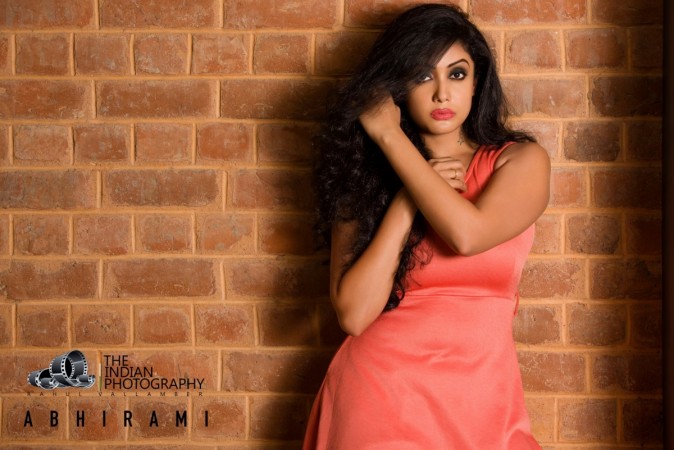 Abhirami Venkatachalam is eliminated from Bigg Boss Tamil 3 house. She is the ninth contestant to be evicted from Kamal Haasan-hosted show. Apart from her, there were four contestants like Mugen, Madhumitha, Kavin and Losliya were facing the elimination.
The audience were expecting her eviction as the actress has been struggling to impress the audience. Her cry-baby behaviour and lack of enthusiasm in the activities were the major drawbacks of her.
Abhirami had stuck friendship with Vanitha, Sherin and Sakshi in the first few weeks, but gradually she stayed away from them and got closer with Losliya. At some stage, she fell in love with Mugen and she started losing her focus in the game in Bigg Boss Tamil.
However, Abhirami is apparently not upset over the eviction rather she looked happy while talking to Kamal Haasan after coming out of the house. The interesting part of the show is that she displayed a wide smile on her face and did not show any sign of disappointment which has impressed the fans.
Check out how the audience reacted to her eviction:
Nila: Going to miss one of my favourite contestant! #AbhiramiVenkatachalam #BiggBossTamil
Avinash Ramachandran: #Abhirami walks out of #BiggBossTamil3 with her head held high
What a wonderful way to bid adieu to a place that painted her in a variety of shades
This is how her stint at the #BiggBoss house will be remembered
Bold, beautiful, and with a wide smile
#AbhiramiVenkatachalam
sandeep: #AbhiramiVenkatachalam a girl who have bunch of talent but failed to show in searching of useless things..my mind voice also same as kamal..is this double acting or wat..trust me that last 15min even #losliya cant stand infront of ur talent @AbhiramiVenkat_.. #BiggBossTamil
Kayalvizhi: OMG She is so adorable #AbhiramiVenkatachalam looks great today and that swaram wowww priceless talented and deserves people are coming out mixture and shits are inside
# go girl have a wonderful future ahead #bigbosstamil3 #BiggBossTamil
Badhrirajan: Atleast last moments la #AbhiramiVenkatachalam Superb indha #Abhirami Tha nanga edhir paathom but unfortunately situation makes her to cry
All d bst #AbhiramiVenkatachalam #BiggBossTamil #BiggBoss #BiggBossTamil3 #பிக்பாஸ்
Sarojini Sri: Ayyooooo #AbhiramiVenkatachalam stop it plz... Most irritating face & voice in recent times... Hate to see her over acting... Scene podama Poi thola ppaaaaaaaa #BiggBossTamil3 #BiggBoss
Rosh: Abhi's swaram was so sooo good!! She could have been the crowd favourite easily if she hadn't gone behind this love thing. #Abhirami
#AbhiramiVenkatachalam #BiggBossTamil3
Sofi: Abhi must be really relieved and happy for getting evicted, happy to see her going out of d house with such a smile on her face, all d best #AbhiramiVenkatachalam for ur future #BiggBossTamil3 #BiggBossTamil
VenkatSrini: Do I need to be happy that #AbhiramiVenkatachalam is out or do I need to be sad that #vanithavijaykumar is in the house. #BiggBossTamil3