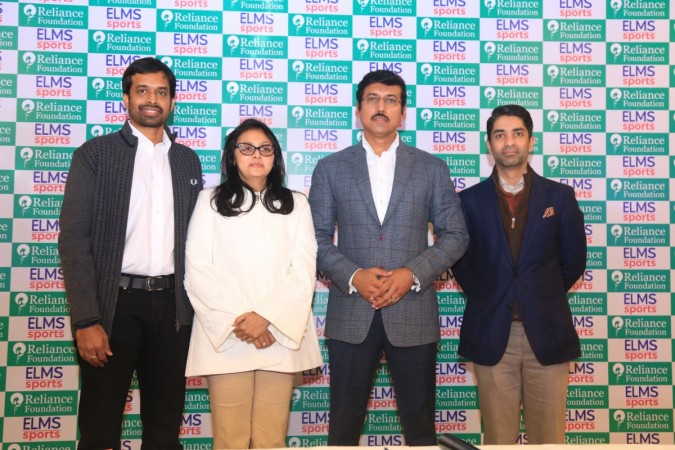 Olympic gold medallist Abhinav Bindra and former All-England Open champion Pullela Gopichand will be the leading lights for ELMS Foundation, a paradigm shifting initiative that aims to create a modern ecosystem to promote sports in the country.
Bindra and Gopi were unveiled as the foundation's mentors at ELMS' launch ceremony in the presence of Union Sports Minister Rajyavardhan Singh Rathore.
A non-profit organisation founded by Chennayin FC co-owner Mrs. Vita Dani, Arjuna awardee Kamlesh Mehta and Mrs. Monalisa Mehta, ELMS (Excellence in Learning and Mastering of Sports and Physical Literacy) aims to work with Physical Education experts, coaches, sports administrators to create a large pool of trained professionals who can impart modern training to talented athletes across all levels.
Mr Jalaj Dani, well-known businessman and chairman of the board of governors of IIM, Trichy, will be the advisor of the foundation.
Bindra stresses on the need for modern approach
Beijing Olympic shooting hero Abhinav Bindra revealed that many key issues were discussed during the Olympic Task Force (OTF) meetings.
"I believe that we need world-class high-performance directors/administrators in India to lead each sport's transformation. The program will include a mix of classroom training, digital lessons and internship in world class institutions to help administrators understand the sport better.
"Our goal is to infuse a modern approach into Indian sport that will improve the standard at not just the grassroots level but at the highest level too," he said.
Gopichand, who has produced a number of world class players at his badminton academy in Hyderabad, agreed that the time was ripe for such an initiative. "We need to look at sports beyond medals and as a great opportunity for national development," he said.
He advocated the importance of physical literacy and self-referenced excellence as the two pillars in creating sports culture in the country. For the last three years, through policy recommendations and implementation of physical literacy, he has done pioneering work in Andhra Pradesh and Telangana and wants to spread physical literacy and take this initiative to the national level.
"To spread the philosophy and rightful implementation, we need to empower our PE teachers and coaches with the rightful knowledge with systematic support," he added.