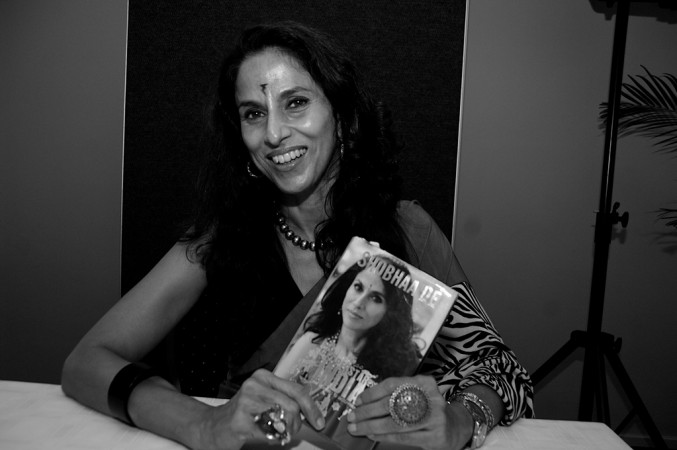 Shooter Abhinav Bindra, badminton players Jwala Gutta and Parupalli Kashyap, celebrities Gul Panag and Vir Das were among some who lashed out at author Shobhaa De for mocking the Indian contingent participating in the Rio Olympics 2016 in a tweet.
The Indian Men's Hockey team suffered a 1-2 loss at the hands of Germany, while the Women's Hockey Team also lost 0-3 to Britain. Archer Laxmirani Majhi was also knocked out of the tournament.
Bindra recently finished fourth in the final of the men's 10-metre Air Rifle at the Olympic Shooting Centre in Rio de Janeiro and is also India's sole individual Olympic gold medallist.
The tweet angered several fans, former sports personalities and a few celebrities from the entertainment industry who hit out at De for her insensitive and callous comments.
De tweeted saying:
Goal of Team India at the Olympics: Rio jao. Selfies lo. Khaali haat wapas aao. What a waste of money and opportunity.

— Shobhaa De (@DeShobhaa) August 8, 2016
@DeShobhaa that's a tad unfair. You should be proud of your athletes perusing human excellence against the whole world. — Abhinav Bindra (@Abhinav_Bindra) August 9, 2016
But Bindra was not the only one to give De a piece of his mind. Several celebrities across professions lashed out at the author for her remarks.
@anujmagazine @Abhinav_Bindra @amz360 @DeShobhaa True that! Stupidity doesn't deserve attention or a response!

— Parupalli Kashyap (@parupallik) August 9, 2016
@DeShobhaa maybe things will change when the attitude of people like urself change!!!! #Proudindian #proudsportsperson — Gutta Jwala (@Guttajwala) August 8, 2016
@DeShobhaa a little harsh to belittle the hard work put in by our athletes ...don't you think ?

— Somdev Devvarman (@SomdevD) August 8, 2016
@Abhinav_Bindra And do so despite of and in spite of there being no infra & institutional support, and no sporting culture @DeShobhaa — Gul Panag (@GulPanag) August 9, 2016
Lots of lament about medal tally, but no lament about lack of fitness culture (which builds a sporting nation) @Abhinav_Bindra @DeShobhaa

— Gul Panag (@GulPanag) August 9, 2016
Ms. De, kindly run on the hockey pitch for 60 mins & hold a rifle like Abhinav and Gagan. Bit tougher than u think https://t.co/XwZFKqZJjn

— Viren Rasquinha (@virenrasquinha) August 8, 2016
Unsporting & crass for socialites to frivolously dis Indian athletes who have succeeded against all odds to get as far as Rio — Milind Deora (@milinddeora) August 8, 2016
I don't understand why sports lovers are wasting so much time outraging over comments of people who don't matter.

— Harsha Bhogle (@bhogleharsha) August 9, 2016
Hey! Remember that time you went to the Olympics for India which then gave you the right to judge athletes forever? No? Yeah..me neither. — Vir Das (@thevirdas) August 8, 2016
De was also trolled by the general public on Twitter for her remarks.
Here's a rare image of Shobha De composing a tweet. pic.twitter.com/rbhPHkrwiU

— Sahil Shah (@SahilBulla) August 9, 2016
How can your blood not boil when you read Shobha De's tweet? It got back my migraine. — Mrs. Doctor Who (@oxymoronic_me) August 9, 2016
Its easy to tweet sitting inside but just get on the field to know what its to be an athelete.... ignore maaro isko #shobha de

— MITHUN MN (@itsme_mnm) August 9, 2016
Shobha De to go on Vipassana till the end of Olympics to avoid any more stupid comments: Day after attracting... https://t.co/g7UK00E5Eh — Afroz® (@afrozasiddiqui) August 9, 2016
Pls stop Sharing the tweet by shobha de, dont give her free Publicity. Our athletes are more important than her. Don't demoralize them..#IND

— Varun Arora (@VAKgadgetfreak) August 9, 2016
In all seriousness @DeShobhaa. For all your "class" and high society persona, u are a low life disgrace. Won't even bother mincing words. — Vande Mataram (@UnSubtleDesi) August 8, 2016
. @DeShobhaa you are a stupid human and a terrible waste of oxygen. I'm not even trolling you. I'm genuinely asking you to stop thinking.

— Sahil Shah (@SahilBulla) August 8, 2016
.@DeShobhaa Ma'am, with undue respect, I feel u could've got us a gold medal, but sadly uttering bullshit all day isn't an Olympic sport yet — The-Lying-Lama ☔️ (@KyaUkhaadLega) August 8, 2016
Not even worth a selfie. If scaring babies was Olympic sport, @DeShobhaa would strike gold! https://t.co/NLNEOtR6Jh pic.twitter.com/7KjQQGAipl

— Nishant Gambhir (@madnish30) August 8, 2016
@DeShobhaa Goal of Shobha de on twitter : Online aao. Bina matlab ki baat karo. Gaali khao. Wapas ajao. — Smoking Skills (@SmokingSkills_) August 8, 2016
De seemed to have then gone into damage control mode when she put out a tweet supporting Bindra. However, there was no apology from her side.
Only hope? Dependable Abhinav Bindra. Aim for gold, champion!

— Shobhaa De (@DeShobhaa) August 8, 2016