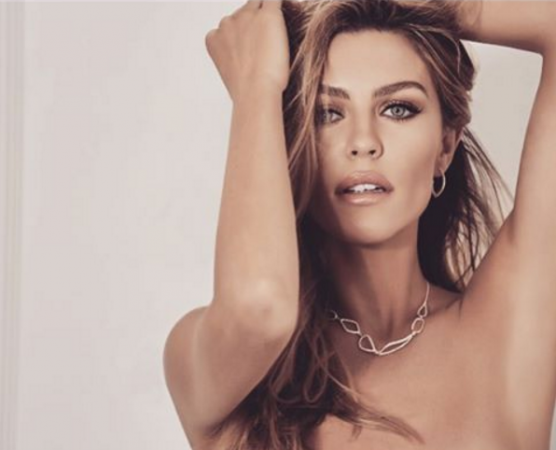 Model Abbey Clancy is featured in the latest issue of Hunger magazine and photos from the spread show her flaunting her svelte frame in a white swimsuit. However, the model seemed to have suffered a slight wardrobe malfunction as one photograph shows her flashing her nipples as she arches her frame backwards in a sexy pose.
Also read: Sophie Marceau, former Bond girl, takes it all off to show how she has thwarted time [PHOTOS]
Clancy's full photoshoot will appear in issue 12 of Hunger magazine, which will be released on March 16.
Clancy is married to footballer Peter Crouch and they have two daughters Sophia, 5, and Liberty, 20 months. Last year, revealed she'd like to have more children, but her husband was hesitant to add to the brood.
"I'd love more, but the second one doesn't sleep at all - she's up every hour so Pete's like 'no more babies just yet,'" she said during an appearance on ITV show This Morning. "Liberty is eleven months now, so I think once we get her sleeping it might change his mind."
Clancy is currently busy filming the upcoming series of Britain's Next Top Model. Interestingly, she will now host the show after initially rising to fame as the runner-up back in 2006. The 11th season of the modeling reality show will have Clancy teaming up with model Paul Sculfor, fashion expert Hilary Alexander and photographer Nicky Johnston.
The upcoming season will feature the show's first transgender contestant. Talulah-Eve Brown, a 22-year-old, is a native of Birmingham and is a well-known campaigner for the rights of transgenders.