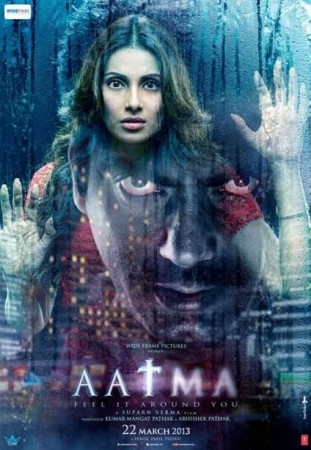 A psychological thriller film "Aatma" starring Bipasha Basu and Nawazuddin Siddiqui in the lead roles was released on 22 March. The story of the film directed by Suparn Verma revolves around a single mother who fights with her husband's ghost in order to keep her daughter safe from him.
The film has received mixed reviews from critics for the horror quotient and the actors' performances.
Here is what critics have to say:
Taran Adarsh of Bollywood Hungama wrote: "AATMA is *not* the quintessential horror film. It's not about a haunted house or a tormented spirit thirsting for vengeance. It has layers. It has supernatural elements. It tackles an abusive relationship. It's about a strong emotional bonding between a mother and child. Primarily, it's the fight between a woman and her dead husband over their child. An interesting concept without doubt, but what comes across on screen is such an anticlimax!
"AATMA narrates the story of a mother who must fight to keep her daughter safe from the ghost of her father. Maya's [Bipasha Basu] peace lies shattered when she discovers that her husband [Nawazuddin Siddiqui] intends to take their daughter, Nia [Doyle], with him to his world. The world of the dead!
"To give the credit where it's due, AATMA doesn't resort to appalling, nauseating visuals. It's low on gore, but high on atmosphere and mood. Unfortunately, Suparn presents the age-old beliefs without giving a new spin to the fight between the dead and living. The film is spiked with been-there-seen-that kind of situations. To make matters worse, Suparn uses evocative visuals and an unsettling story to create a spooky atmosphere, but it doesn't deliver any scare.
"On the whole, AATMA stands on a weak script. Besides, there are hardly any scares here. Disappointing!
Saibal Chatterjee of NDTV wrote: "The intriguing premise and the evocative texture of Aatma are somewhat at odds with what the film eventually adds up to. One is tempted to look for layers of meaning beneath the images. There is none. You are left clutching at thin air.
A skeletal plot and the scarcity of truly chilling moments defeat the very purpose of the paranormal thriller about a sweet little girl possessed. As a result, Aatma is not quite as mind-bending or as terrifying as writer-director Suparn Verma wants it to be. Its spirit is in fine shape, what is missing is soul.
"There is a juncture or two in the film where it is quite evident that writer-director Suparn Verma is mindful of the limitations the genre is heir to and is determined to rise above them. Unfortunately, intent is all there is to the film. The end result is patchy.
"Aatma is meant to send shivers down the spine and shock the viewers out of their seats. All it does manage to do is set off a few mild waves of cold bemusement.
"Verdict: one star for gumption, one more for effort, but none at all for the rest."
Ashay D of Koimoi.com wrote: "The movie revolves around the departed father's desperate desire to be reunited with his daughter in his dead world, while Maya, an apprehensive mother, attempts to rescue Nia from the "Aatma".
"Nothing is superior to a paranormal existence. If no single force on the earth can slay the intentions of a supernatural creature even after applying all possible sources, then what can cause it to stop? This is fundamentally the underlying quest developed from the script.
"Taking the dialogues into consideration, there weren't any spooky wordplay or wisecracks by Nawazuddin. However, in Psycho thrillers or horrors, some strength on the dialogues can enhance the movie.
"Aatma is just another ordinary horror story but with a pinch of fine acting by the lead stars. It is recommended for those who believe in spirits coming to haunt you and execute all fatal shots in order to make your life hell."
Rajeev Masand of CNN-IBN wrote: "95 minutes have seldom felt so long, as they do while watching 'Aatma'. This curious but ultimately predictable supernatural thriller fails to escape genre conventions, falling into the same trap that so many of its predecessors have.
"Low on scares and unfolding at a snail-like pace, 'Aatma' recycles familiar horror-movie imagery to little impact.
'I'm going with one-and-a-half out of five for 'Aatma'. This is death by boredom!"
Ravina Rawal of Firstpost wrote: "Aatma is a horror, alright. Just not in the way director Suparn Verma could have intended. The movie's trailers and promos had us fooled into thinking maybe there was a chance Bollywood had finally found a way to terrify its audience, using subtlety and psychological tricks to send a chill down our spines, instead of having to resort to the gore and in-your-face boo formula.
"Except, Verma's way doesn't work either. He hasn't pushed the boundaries of this genre enough, nor thrown anything at us that we haven't seen before. If we are sitting at edge of our seats, it isn't for the reason he'd like us to be.
"Instead, like most other attempts at this genre by the industry, Aatma too gives us plenty of unintentional comedic scenes, and has the audience in splits in the second half.
"A disappointing film overall, quite missable. The only silver lining here perhaps is that the movie's runtime is under 100 minutes."
Anupama Chopra of Hindustan Times wrote: "Early on in Aatma, a cop investigating the murder of a young boy says: 'I have a bad feeling about this'. He took the words right out of my mouth.
"Aatma is stilted, predictable and, like most Bollywood horror films, unintentionally funny. For one thing, you have Shernaz Patel, who doesn't look that much older than Basu, playing her mother.
"It's impossible to be scared by any of this."