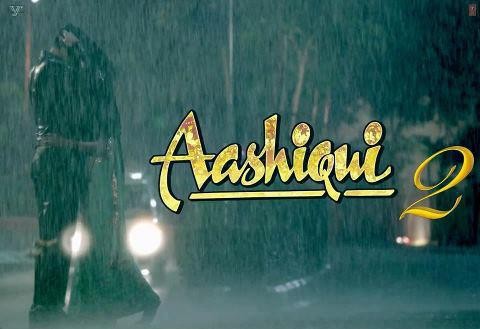 Romantic film "Aashiqui 2" directed by Mohit Suri has finally hit the screens this Friday. After giving hits like "Kalyug", "Woh Lamhe" and "Murder 2" Mohit Suri is back with an intense love story.
Aditya Roy Kapur and Shraddha Kapoor are the lead characters of the film. "Aashiqui 2" is a story of two people living in the 21st century who deal with pain, loneliness and other issues that audiences in the 90s or before wouldn't have connected with, the film's producer Mahesh Bhatt explained.
The film is a sequel of the 1990 hit film "Aashiqui" that featured Anu Aggarwal and Rahul Roy. When "Aashiqui" was released, the film won the hearts of many in the country with its romantic songs that remain popular till now.
Now "Aashiqui 2" is expected to re-create the magic after 23 years. The songs of the film like "Tum Hi Ho" and "Sun raha hu mein" has gone viral on YouTube and has created lot of curiosity. [Read the report here]. The film has received mixed reviews from critics upon its release.
Also Read:'Aashiqui 2' Box Office Collection: Aditya Starrer Opens with Bang on Day 1
Check out here what critics have said about the film:
Madhureeta Mukherjee of The Times of India writes: "He sings. She sings. He, for his stardom. She, for her supper. And the twain meet. In a restrobar, where she croons and he swoons. And Aashiqui is born. Again! Retelling the celebrity story that stardom ain't an easy ride. It sometimes vrooms and then goes sputter, the fuel of celebdom often running out.
"The real lyric of this story is their romance, pulsating with passion and intensity - on high notes and 'higher spirits'.
"Suri's musical love story doesn't bear much semblance to the original 'Aashiqui'; instead it finds its own rhythm. He pitches the story with old-world romance, high-drama and well-crafted heart-breaking moments.
"This could be good soup for the lovers' soul - with a dash of old-world flavour. You will not like this if die-hard romantic films don't leave you enthused or entertained."
Taran Adarsh of Bollywood Hungama writes: "AASHIQUI 2 traces the journey of a young couple and the turbulence in their lives... Rahul [Aditya Roy Kapur], a singing sensation, falls in love with the voice of Aarohi [Shraddha Kapoor], who aspires to be a singer and sings at lowly joints. Rahul takes it upon himself to make Aarohi a singing star, builds her confidence and even arranges for her audition with the music baron [Mahesh Thakur]. Gradually, Rahul and Aarohi fall in love...
"This one prides itself with a contemporary plot, has far more complex and intricate drama and offers abundant scope to its lead actors to display histrionics. At the same time, Mohit shoulders a colossal responsibility because the soundtrack was a game changer... it is, in fact, dew fresh to this date.
"On the whole, AASHIQUI 2 brings romance back on the Hindi screen -- intense, pure, selfless and heart wrenching. A stirring account with brilliant moments, bravura performances, strong emotional quotient and addictive music, this one's an absolute must watch for the romantics."
Mohar Basu of Koimoi.com writes: "Mohit Suri's Aashiqui 2 rambles on about a love story that turns into a convoluted mess because of alcoholism. With absolutely nothing remarkable in this distasteful blend of Devdas and Abhimaan, I will recommend this film only for Aditya Roy Kapur's intense acting.
"The film could easily pass as a documentary for Alcoholics Anonymous! Oodles of melodrama and dollops of mush leave you feeling diabetic! But as far as the script goes, there is an interesting and rather impressive point to note. Surprisingly, the script has kept the love story independent of Rahul's self loathing tendencies.
"Mohit Suri delivers a letdown of a film. Aashiqui 2 has not one impressive quality in it when it comes to direction.
"Aashiqui 2 is a sermon on alcoholism. Faintly trying to revive a dead script with soothing music and appealing chemistry, the film has a hasty and unpredictable wrap up which kills its tempo."
Sneha May Francis of Emirates 24/7 writes: "It would've worked wonders as a music album, but as a movie, unfortunately, Mohit Suri's love story is a torture to our senses. If 'Aashiqui2' was a music album, then it's fate would've been far more promising than its current avatar as a movie.
"Chances are the Bhatt brothers - Mahesh and Mukesh - were so overwhelmed by the remarkable soundtrack that they had collected from a talented bunch of composers (Jeet Ganguly, Mithoon, Ankit Tiwari) that they decided to spin a movie around it.
"For a movie that flaunts such impressive soundtrack, it's regrettable that the 'gorgeous' faces that blindly lip-sync those lyrics are unable to strike a chord with the audience.
"What it does share with its supposed original is a jacket and the name of its male protagonist. Its fate, however, will be far more damaging. Isn't it ironic that for an industry which incessantly makes romantic films, it is still unable to churn out a simple, heartwarming romantic story?
"So, skip the movie, and buy its music CD instead. You won't regret it, I promise."