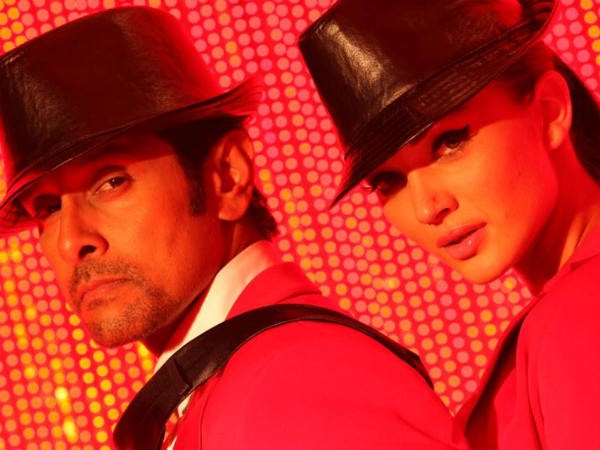 The makers of the much awaited magnum opus film "I" have revealed more details about the film. The producers have released a video, which gives a sneak peek into the making of the movie and the people behind the scenes.
In the video, director Shankar, Vikram, AR Rahman, cinematographer PC Sreeram and many others, who are involved in the making of the film have spoken about the Vikram starrer, along with some unseen behind the scene clippings.
The video also gives an insight to the kind of visual treat, including some extreme fight sequences, the audience can expect from the film.
Everyone has praised Vikram for his commitment and efforts. The video also introduces different avatars of the actor in the film. The first look of the actor is that of a body builder named Lingeshan.
"The moment you think about a builder, the first person that comes to your mind is Arnold Schwarzenegger. So when we designed the character, we got inspired by the curls and turns in Arnold's hair style. We tried to bring in that kind of hair style for Vikram. The character will be spotted speaking a local slang of a Chennai man," said Shankar in the video.
The video then moves on to the making scenes of song sequences. The first song "Pattamppochi Pole" is penned by Kabilan, which reflects Vikram's thoughts and dreams. Music composer AR Rahman points out the song as a "desi idiom dance kind of song."
The exclusive video also introduces the costume designer of the movie, Mary E Vogt, who had also worked in the movie "Men in Black". Mary explains the various concepts that led to the final look of the character for some extreme fantasy sequences, which were conceptualised by Shankar.
Talking about the song "Pookale Satru Oyividangal", the director says that the song will feature some dreamy shots, which was shot completely in China and added that nearly 25% of the movie is shot in different parts of China.
Taking about actress Amy Jackson, the director said that the film required a real model and beautiful girl.
"The best part about Amy was that she was equally ready to sacrifice her energy and remain committed to the movie just like how Vikram was for his role," added the director.
The second half of the movie discusses the other looks of Vikram, including his dwarf and evil looks.
"The looks required a lot of makeup work and that is when we contacted WETA Workshop (who did makeup for "The Hobbit and "Lord of the Rings") and this is for the first time they are doing an Indian film. We have to really appreciate the way they brought out the look," said Shankar.
Shankar has called the film's screenplay challenging and assured that the audience can wait for a fresh and new experience. The makers have also pointed out that the film should be considered as an international film rather than a Tamil movie