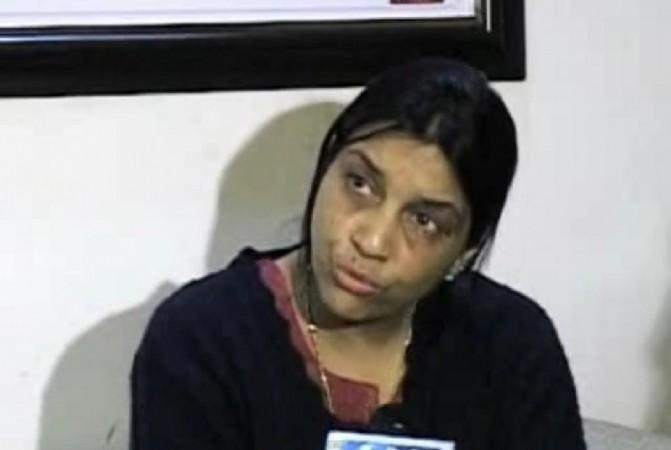 Nupur Talwar on Monday surrendered before a CBI court in connection with the murder of her daughter Aarushi and was taken into custody by authorities.
Minutes after she surrendered, Nupur's lawyer filed a bail application in the court and was waiting for the CBI officials to file their response on the plea.
Nupur surrendered after her petition seeking stay on the non-bailable arrest warrant against her was quashed by the Supreme Court, while it directed the accused petitioner to surrender before the CBI court.
With the no other option in hand, Nupur reached the court premises with her husband Rajesh Talwar and mother to surrender.
Rajesh Talwar, father of Aarushi, is another suspect in the case. However, he is out on bail till May 7. His bail has been challenged by the investigating sleuths.
In last hearing, Nupur and Rajesh's other plea in the apex court challenging its earlier order that directed both the accused couple to face trials in Aarushi case was adjourned till Friday.
On April 18, a CBI court trying the Aarushi case issued a non-bailable arrest warrant against Nupur as she did not show up for the hearing. However, the CBI could not take her into custody as she disappeared without a trace when the officials raided her residences in Ghaziabad and New Delhi.
After giving the slip to the CBI officials, Nupur moved the Supreme Court against the non-bailable warrant as well.
Following which, the CBI was directed to refrain from arresting Nupur until a SC bench could hear her plea seeking an anticipatory bail and stay on non-bailable warrant.
Aarushi, 14, was found dead in her bedroom at her residence in Noida, Uttar Pradesh, with her throat slit. Hours later, another dead body was found on the terrace, which was identified as that of the domestic help Hemraj.
The double murder case was handed over to the CBI. The agency suspects that the parents of the girl are the main perpetrators of the crime.