The sessions court in Ghaziabad sentenced dentist couple Rajesh and Nupur Talwar, who were convicted of murdering their teenage daughter Aarushi and servant Hemraj in May 2008, to life imprisonment on Tuesday.
The arguments at the Ghaziabad court lasted for five minutes and ended at 2:35 pm. The Central Bureau of Investigation (CBI) had sought death penalty for the couple citing the gravity of the crime. The defense argued that the crime didn't fall under the 'rarest of rare' cases, and hence they should be given life imprisonment.
The duo arrived at the court in Ghaziabad from Dasna Jail and were taken back there after the sentence was announced at 4.30 pm on Tuesday. Superintendent of the Ghaziabad prison told ANI that doctors had attended to Nupur since she was unwell. They said she had high blood pressure as she did not eat properly the night before.
The Talwars were convicted on Monday, for a double murder of their only child Aarushi (13) and servant Hemraj, by the Ghaziabad court. Rajesh and Nupur were booked under sections 302 (murder), 203 (filing a misleading FIR) and 201/34 (destruction of evidence) of Indian Penal Code.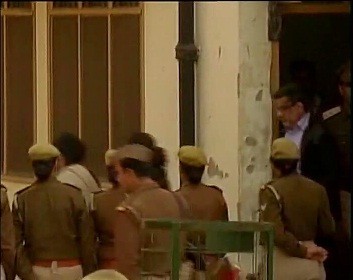 In the 204-page long judgement, additional sessions judge Shyam Lal said that the Talwars had disobeyed the 'ferocious penal code of the land' and breached the 'thou shall not kill' commandment.
On 16 May 2008, the body of Aarushi was found dead with her throat slit at her room in the Talwars' Noida apartment in sector 20. A day later domestic help Hemraj's body was found on the terrace.
The court accepted circumstantial evidence presented by investigators on Monday, which claimed that four people were present in the house on the night before the murder took place and that two were found dead the next day.
While the judgement was being passed, Nupur reportedly broke down. The Talwars released a statement minutes after the verdict saying, "We are deeply disappointed, hurt and anguished... We refuse to feel defeated and will continue to fight for justice."
They are likely to appeal against the conviction in Allahabad High Court.
Latest Reactions
Fiza Jha, Aarushi's friend: "CBI doesn't have enough evidence, it is all circumstantial. In a bid to nab Talwars, justice for Aarushi has been forgotten. Aarushi will get justice only when her parents find peace and her true killers are punished."
R K Saini, CBI counsel: "CBI demanded maximum punshiment. Court in its judgement gave maximum punishment. Our basis for asking for maximum punishment was that two murders were committed."
Abha Singh, senior advocate: "The punishment is correct. The sessions judge has rightly applied his mind and given this verdict."
Medha Patkar, social activist: "The media is giving too much hype, when there is so much injustice and so many killings happening among the underprivileged sections of our society."